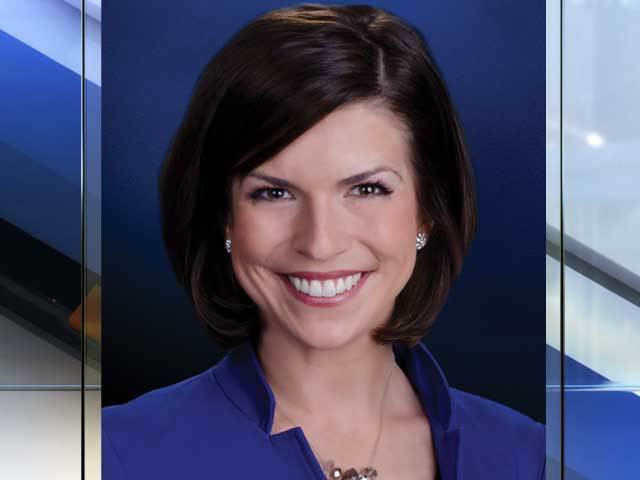 Q: Why did you decide to pursue television news as a career?
A: I wanted to make a difference. Responsible journalism allows us to do just that. Storytelling can change lives and move souls. That's my goal every day.
Q: What was your first job?
A: My first paid job was as an instructor at Smith Walbridge Drum Major Clinics at Eastern Illinois University. I was in high school. Teaching marching band technique was so fun!
Q: What is on your DVR?
A: Scandal, The Bachelor, Modern Family
Q: What is favorite way to spend a day off?
A: My perfect day off starts with a cup of hot tea and ends with a glass of wine. In the middle, I like to spend time with family, friends and my dog, Trudy!
Q: Favorite restaurant in Indy?
A: Oakley's Bistro, Indigo Duck (Franklin)
Q: Most challenging part of your job?
A: Getting enough sleep!
Q: Most memorable story you ever covered?
A: One of my first stories as a cub reporter was about a little boy who fell into the Kansas River in Topeka. They never found his body. However, his family stood vigil on the river banks for days as rescuers worked to find him. We were there with them through it all. Eventually, the family said goodbye to the boy during a memorial service. It was the first time I realized the unique position we have as journalists to give a listening ear to those mourning as they share their stories strength through faith.
Q: Favorite book, movie?
A: I just read "The Prince of Tides." It was amazing. I love "Benjamin Button," "P.S. I Love You," "Sex and the City" and anything with Will Ferrell.
Q: What's on your iPod?
A: My iPod is so dated, though I find myself listening to old hits from Michael Jackson and The Killers.
Q: What is something that would surprise people about you?
A: As a child, I was scared of anyone other than my family. To say it plainly, I was incredibly shy. In fact, people at church thought my permanent place in life was behind my mother's legs!
Q: Best advice you ever got?
A: "Work hard and inevitably good things will happen." -- My high school band director, Mr. Vince Cosmano, shared this with us before he retired. It gets me through the long days!
Q: Favorite vacation spot?
A: Salter Path, North Carolina
Q: What is your proudest career moment?
A: Being nominated for a regional Emmy in the Multi-Media Journalist category. I really challenged myself to learn to shoot and edit as well as report. This nomination was validation that the hard work paid off!
Q: Do you have any pets?
A: Yes! If you follow me on Twitter or Facebook, you know how in love I am with our pup, Trudy!
Q: When I am not at work I am…
A: at home, at the gym, exploring Indy, cooking, laughing, reading, with family or doing as many of those things at the same time as possible.
Q: Biggest pet peeve?
A: Rude people. There's no time for rudeness in our ever-accelerating world.
Q: What advice would you give someone to get into the business?
A: Start small and work really hard! Someone will notice!
Q: Do you have a favorite cause/charity?
A: Leukemia and Lymphoma Society. My mother is a survivor! Now, I work hard to fundraise, hoping doctors find a cure sooner rather than later.
Q: When was the last time you tried something new? What was it?
A: My husband and I traveled to Key West with two of our friends over the New Year's holiday. While we were there, we ate at a breakfast restaurant that allows roosters to mill around the tables. That was an experience! (Don't worry, we didn't get pecked!)
Q: What electronic gadget can you not live without?
A: My alarm clock! Have you seen my work hours?!
Q: What is your favorite childhood memory?
A: I was a military brat. So, normalcy was limited when my brother and I were kids. So, to combat the ever-evolving change in our lives, my parents made plans for us to attend the same summer camp every year. Camp Trinity in Salter Path, N.C. became our home away from home -- when we were adjusting to our new military homes. The Outer Banks of North Carolina have a weathered beauty that I love. I can't wait to get back there soon.
Q: What is the scariest thing you have ever done?
A: I am not a daredevil. I've only ever been on one real roller coaster. Zip lining in the Dominican Republic almost gave me a heart attack. However, I think several airplane experiences I've had top my list of "scariest thing" I've ever lived through. Get this -- my dad was an Air Force pilot! Why couldn't I get his bravery in the sky?
Q: What is the hardest thing you ever had to do?
A: Watch my mom fight her way through cancer. She was determined and so was I. However, the toll treatment takes on your body can be very severe. I just wanted her to feel OK again. We had faith in God that everything would work out -- and it did.
Q: Did you have a mentor in your career?
A: Yes. Mentors are necessary! Christa Dubill, main anchor at KSHB and Lynn Holly, University of Illinois journalism professor
Q: If you weren't in your current profession, what would you be doing?
A: I'd be an elementary school teacher or in culinary school (I love to cook).
Q: If you won the lottery, what is the first thing you would do?
A: Take my family on a vacation to the Caribbean for two weeks! Then, donate and save the rest!
Q: If you could witness any event, past or present, what would it be?
A: My grandfather has an amazing survival story from World War II. His plane went down over Yugoslavia. The experience has shaped his life. As many times as I hear how he spent five days and nights in the snow by himself before being picked up by supporters of Marshal Tito's Partisan Underground, I still can't grasp the moment. That group saved his life and allowed that branch of our family to continue. I can picture the experience through his storytelling. Though, to see it would definitely fill in the blanks.
Q: What is your proudest accomplishment?
A: Being a compassionate, strong and opinionated woman, wife, daughter, sister, friend and acquaintance!
Beth Vaughn is pleased to join RTV6's team of award-winning journalists.
Beth comes to the Hoosier state from our Scripps TV station in Kansas City, KSHB. While in Missouri, she reported extensively on the wildest tornado season in the country's history, the growing sex abuse scandal in the local Catholic diocese and the excitement surrounding the 2012 All-Star Game in Kansas City.
Most recently, Beth was recognized for her reporting on a drug given to women in the 1960s and 1970s that now causes breast cancer in their daughters and granddaughters. She believes storytelling, no matter what the subject, is not only meant to inform but also to connect us as individuals.
Beth is a two-time Emmy award nominee, a Kansas Association of Broadcasters award winner and a Society of Professional Journalist award winner.
Before stopping in Kansas City, Beth helped start the days of Northeast Kansas residents as morning anchor at KSNT. She began her career with internships at WCIA in Champaign, Ill. and at MSNBC in New York.
Beth graduated from the University of Illinois in Champaign-Urbana. While on campus, Beth led the Marching Illini as drum major. It was, by far, her loudest job yet! She loves the Orange and Blue but is proud to be a new Hoosier.
"My husband and I can't wait to meet the great people of Indianapolis," Beth said. "We are both Midwest natives with Midwest values, so Indiana is a perfect fit. I am eager to join Marc and the rest of the RTV6 news team in bringing viewers the stories, weather and traffic that matters most in the morning."
Community involvement is very important to Beth. She is actively involved in the Indiana Chapter of the Leukemia and Lymphoma Society. In Kansas City, she worked closely with the Easter Seals Capper Foundation and Big Brothers Big Sisters.
Beth and her husband, Paul, enjoy spending their free time with family and friends, cooking and traveling. They live in the Indianapolis area with their puppy, Trudy. They're eager to try out all of what Indianapolis area has to offer.