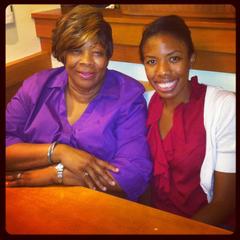 Years ago Liz Adeola emailed an RTV6 anchor for advice on the news industry, little did she know that she would be working for theIndyChannel just a few years later.
Liz hails from the Grand Canyon State (Arizona) but has spent the bulk of her career covering stories in the Midwest. Her first job as an overnight associate producer served as a foreshadowing of where her career would take her.
From the Truckee Meadows of Reno, Nevada where Lake Tahoe was just a short drive away to Odessa, Texas where it snowed on Thanksgiving Day.
Liz has discovered the joys of hand warmers, boots, and other cold weather accessories (if you know of any more please email her Liz.Adeola@WRTV.com)
Liz has collected several awards for her work in Texas, Illinois, and most recently Columbus, Ohio. Her greatest reward is getting results for people who find themselves in seemingly unsurmountable hardships.
She brings a wealth of knowledge to the RTV6 team, having worked many positions at television stations in front of and behind the camera.
Liz is a graduate of the Walter Cronkite School of Broadcast Journalism at Arizona State University and a member of NABJ, NATAS, and Alpha Kappa Alpha.
Although Liz is from the southwest she has a family here in Indy (like her godson "Peanut") who make her feel right at home especially on holidays.
Her favorite quote comes from John Milton who once said, "The mind is it's own place, and in itself can make a heaven of hell or a hell of heaven."
Likewise she believes that having the right attitude can make or break a person before they even start their journey.
Q: Why did you decide to pursue television news as a career?
I love that news has the power to connect people to places and events around the world. I enjoy going out and traveling to new locations I would never have thought of exploring, This career allows me to meet people, and help them during their darkest days.
Q: What was your first job?
The local library had a job board and when I was 12, I was hired temporarily as a bridge caddy. My next job after that was a summer day camp counselor at a youth center.
Q: What is on your DVR?
Fresh off the Boat, Scandal, How To Get Away With Murder, The Walking Dead, Being Mary Jane
Q: What is favorite way to spend a day off?
Running long distance, volunteering, or taking a road trip to a new destination
Q: Favorite restaurant in Indy?
Still looking for one, if you have any suggestions please send them my way.
Q: Favorite book, movie?
Book: The Emperor of Ocean Park
Movie: Coming to America, Pretty Woman, The Beasts of the Southern Wild, Meet Joe Black
Q: What's on your iPod?
Mostly Gospel music, some classical (Clair de Lune), Jessie Ware, Vaults, Santigold, Janelle Monae, Fink, Coldplay, Rihanna
Q: What is something that would surprise people about you?
I had two near death experiences before I was five years old and I rode in an RV from New York to Portland traveling cross-country stopping in 14 cities in 14 days interviewing people for a documentary about the state of the U.S. post 9/11.
Q: When I am not I work I am…
Catching up with family and friends, working out, or reading a good book
Q: Biggest pet peeve?
People who don't tell you when you have something on your face. I think says a lot about a person's character if they put their own embarrassment aside to prevent yours.
Q: What advice would you give someone to get into business?
Never give up and do not let people tell you what you can and can't do.
Q: When was the last time you tried something new... and what was it?
I try something new everyday. I tried clogging during a live shot and I also tried to learn a new dance craze on air… the key word is tried.
Q: What electronic gadget can you not live without?
GPS
Q: If you weren't in your current profession what would you be doing?
I would be a teacher or a Music Supervisor for film and television.
Q: If you won the lottery what if the first thing you would do?
Tithe