Indiana blood supply at dangerously low level
Find out where and when you can donate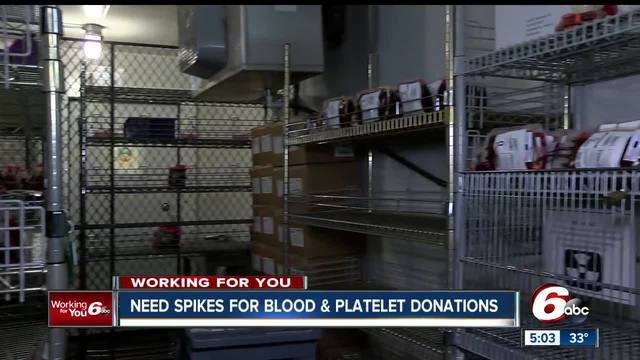 INDIANAPOLIS -- The Indiana Blood Center says its supplies are at a dangerously low level.
Right now in the inventory center, they have about 900 units of blood. That's less than two days supply.
"With the holiday, coupled with the cold weather, has kept donors from coming in to donate. So our inventory is in a bad way right now," said Andrea Fagan, Indiana Blood Center.
Brian Hunter knows the feeling of losing blood all too well. A burglar shot the husband and father of two.
"I've lost part of my left lung, lost my spleen, hit my pancreas, my diaphragm. I mean it was rough," said Hunter.
He received more than 50 units of blood within the first 24 hours and even more in the days to come.
"We had a patient earlier in the week who needed 60 units of O negative blood. You can see today we only have 36 units. We wouldn't have been able to meet that need," said Fagan.
If inventory continues to deplete, the blood center will have to take from the national supply.
They're asking for your help. Take a look at the map below to see where and when you can donate blood near you.