30 years after Ramada disaster, woman who should've been there looks back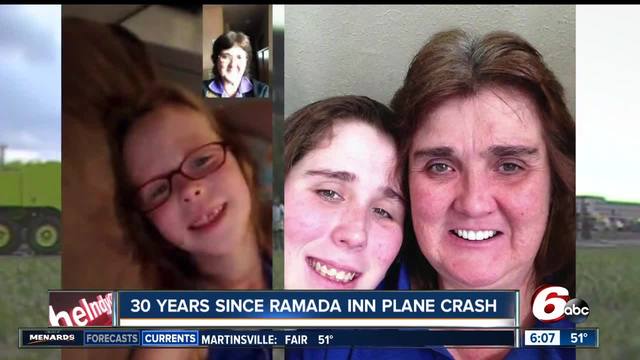 INDIANAPOLIS -- Thirty years ago, when an Air Force pilot crashed his plane into the Ramada Inn near I-465, Shelia Carson should've been there.
She worked in the hotel, but didn't go to work that day.
RTV6 reporter Derrik Thomas visited the 21-year-old on the day she woke up to the news of disaster in her workplace.
PREVIOUS | 1987 Indianapolis Ramada Inn plane crash
"Shocked and lucky to be alive," Carson said in 1987. "I guess I got a lot of living left to do."
Carson, now 51, still lives on Indianapolis' west side. She works at Western Bowl, just down the road from the Ramada Inn. She's been there since 1989.
The day the plane crashed in engrained in her memory.
"I saw the plane on the TV - somebody was looking out for me that day," Carson said this week.
Carson now has children, and a grandchild. She knows her life could've ended that day 30 years ago.
She still thinks of coworkers who were not as lucky. It's not a memory she wants to forget, because each day she remembers that she was given a great gift.
"Enjoy life while you have it," Carson said.
Watch the Carson's 1987 story and 2017 story in the video player above.
MORE HOOSIER HISTORY | 'Do something, and then worry about it.' Resurrecting the Rivoli Theatre | How and when payphones disappeared in Indianapolis | 16 years ago: Market Square Arena imploded to cheers | Historic Indianapolis marker destroyed, fund established for replacement | Message in a bottle found in Indianapolis 85 years later leads to life discoveries
Top Trending Videos