Angie's List: Cooling your home on a budget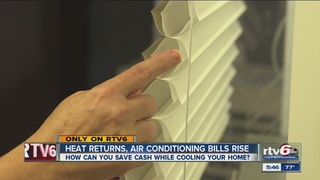 INDIANAPOLIS - If your wallet needs a break this summer, there are several ways to prevent a high cooling bill.
Angie's List founder Angie Hicks said that the old adage about keeping shade on certain windows still holds true.
"When it comes to keeping cool in the summertime, don't forget grandma's advice about pulling the drapes on windows that face the west and the south. Using a medium-colored drape with a white plastic backing can cut your solar heat gain by 33-percent," Hicks said.
Pat Rebb with Abda Custom Windows said the color that you pick can save you cash.
"One of the most efficient window coverings is cellular or honeycomb shades. They have a gap of air between the cells which acts as a barrier for that warm air and the heat coming in," Rebb said.
Homeowners may also consider shutters.
"A shutter is also very efficient because it's covering the sides of your window with a frame," Rebb said.
Matt Garvey with Cool Planet Awning Company said awnings are more fashion forward now than they were in the past, and they can cut your solar heat gain by about 77 percent.
"The new fabrics that are out now relative to 30 years ago are just phenomenal. The typical pro-rated warranty is for 10 years but generally you're going to get 12 to 15 years out of the fabric, which is a great thing relative to a dollar-per-year cost of the product," Garvey said.
Angie's List warns homeowners not to waste money on poorly-installed treatments and to find a company that offers free in-home consultations.