Angie's List: Landscaping around your budget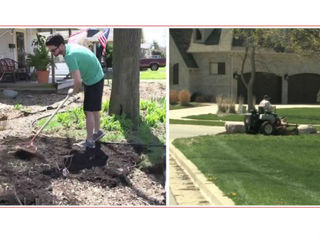 INDIANAPOLIS - Is your yard looking its best for spring and summer?
Whether you have $50, $500 or $5,000 to spend, there are landscaping projects that you can tackle no matter what your budget is.
Investing in the landscaping of your home could add as much as 14 percent in value to your home, Angie's List CEO Angie Hicks said.
"Sometimes the simple, basic things like well-manicured flower beds, a nicely done lawn, and adding trees to your property can give you a nice return on investment," Hicks said.
Hoosier homeowner Bryan Nester called on professional help before he redesigned his yard.
"I've got some neighbors that invest significantly into their landscaping so I wanted to be a good neighbor," Nester said.
If you're looking to spend $50 or less, landscaper Ken Hyatt says you have a few options.
"Install mulch in the beds that will insulate the soil and hold in water. That will also cut down on the amount of weeds. Another great thing in the spring time is to install flowers," Hyatt said.
For $500, you can get mowing and edging services during the summer or several fertilization and weed treatments.
"Many folks don't realize that when you mow the lawn in early spring, just cutting those weeds down stresses those weeds and that will make them go away much faster," Hyatt said.
If you're going all out with a budget of $5,000, you can add a patio and retaining walls to your yard or revamp the foundation landscape.
It's also important to remember that any project can be completed in phases.
"If you're thinking about doing an outdoor kitchen, instead of going all out and doing it in one summer, add the fire pit this year and another element the next," Hyatt said.
Before you hire any help, be sure to verify the company's insurance and licensing information. You want to end up with a bargain, not a raw deal.