Angie's List: What to know to avoid a mom misfire on Mother's Day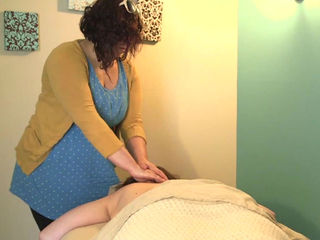 INDIANAPOLIS - Those looking for last-minute Mother's Day gifts may consider treating mom to a massage, but you'll want to make sure you're putting her in the right hands.
Circle City Derby Girl Danielle Frey has a soft side. When she's not on the flat track, she uses touch to help people heal as a massage therapist at Specific Kneads.
"If someone wants to come in and relax I'm going to use mostly Swedish techniques. If someone is coming in for pain relief I'm going to add in some trigger points, deep tissue work and maybe some myofascial release," Frey said.
That's a routine that regular massage customers are used to.
For the last six years, Danielle Bell has leaned on massage for relief.
"I find that the massage actually does address the problem rather than covering it up like medication does," Bell said.
Swedish and deep tissue are the most common, but there are many techniques available, including Thai yoga which includes stretching and compression work.
"I've gotten massage for many years just because I have a lot of tension," customer Amy Wallarab said. "Increased flexibility is a big one. It really works deep into the muscles to help relax the muscles. You feel relaxed but also rejuvenated and energized afterwards."
Experts at Angie's List say to ask questions so you are comfortable with the service provided. If you are not comfortable, it's likely your mother won't be either -- and that's not the kind of gift you want to give on mom's big day.
"The last thing your mom is going to tell you is you wasted money. She probably won't be comfortable and she'll just throw the certificate in the drawer and never talk about it," Angie Hicks of Angie's List said.
Something to note: Massage isn't great for someone with health problems, so you may want to have your mom check with her doctor before you make the purchase ahead of Mother's Day.
Follow Beth Vaughn on Twitter: @bethvaughnrtv6 | Facebook: BethVaughnNews