'Miss Ann' Confronts Mayor At Press Conference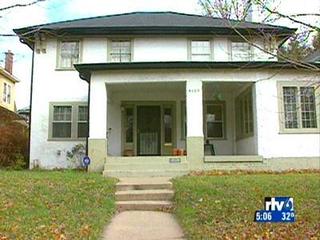 Indianapolis Mayor Bart Peterson Thursday outlined the city's next step in its battle against adult businesses, but not without an unexpected appearance by the owner of a business that the city has vowed to shut down.The city filed a lawsuit Wednesday against Melyssa Donaghy, who lives in the Meridian-Kessler neighborhood on the city's north side,
RTV6's Norman Cox
reported.City officials say Donaghy recently closed an adult business on East Street but still operates a "sexual torture" business in her home in the 4100 block of Central Avenue. Police said she advertises the business, which the city says violates zoning regulations, on the Internet. The lawsuit charges that Donaghy, also known as "Miss Ann," operates a dungeon in the basement of her home in which men pay hundreds of dollars to dress like women and be subjected to bondage and acts of degradation. The city said torture and masochistic activities happened there, and the lawsuit asks a court to put an end to the business.At a press conference Thursday, Peterson said the city is intent on shutting down the business, which he said is operating without proper zoning permits.
City officials say "sexual torture" goes on in this home in Indianapolis' Meridian-Kessler neighborhood.
"We're going to have to constantly fight this battle. If you want to try to keep people from opening these kinds of businesses and operating them illegally, you have to continue to fight all the time," Peterson said. "Our administration has been committed and will continue to be committed to fighting against these kinds of businesses when they are operating illegally."Donaghy showed up at the press conference and attempted to ask questions along with reporters. Peterson refused to answer her."Hey, this is a press conference for the media. I'm sure they'll be happy to talk to you," Peterson told Donaghy.Before she left, Donaghy told reporters that no sex acts had happened at either location. She said her business was educational and promoted "a non-promiscuous lifestyle and respect for women.""Evidently, the mayor doesn't want a non-promiscuous lifestyle and chastity taught in our city," Donaghy said.Authorities say an undercover Indianapolis police officer went to the home in September. He reported being forced to get down on his hands and knees and kiss Donaghy's boots and feet.The officer also said he witnessed the use of spurs, whips, chains and clamping devices, and that he was subjected to degrading conversation.On Wednesday, Donaghy issued a statement defending her business."My practice includes teaching domestic cooking and cleaning, while encouraging and practicing sexual responsibility and chastity," Donaghy said.
Previous Stories: