'Raptors Ahead' Sign Gets Stares, Chuckles
Indiana Road Sign Urges Dinosaur Awareness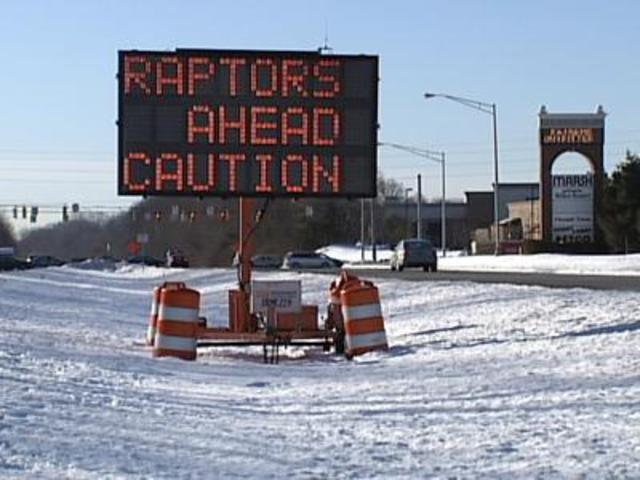 Someone apparently hacked into an electronic road sign in Hamilton County Monday morning, prompting stares and giggles from motorists because of the message the sign displayed.The sign, which read "Raptors Ahead Caution," amused motorists in a construction zone on Keystone Avenue, just north of 116th Street.
---
"It's kind of crazy. I'm totally confused," said one motorist. "I'm kind of expecting … dinosaurs to run down the road, or something."Another puzzled motorist said, "Which raptors?" before adding that he hadn't seen the sign.Carmel spokeswoman Nancy Heck said the signs on Keystone Avenue are owned by a contractor, Highway Technologies, which is responsible for programming signs in the Keystone Avenue construction zone.The odd road sign in Indiana came days after a widely publicized highway road sign message near the University of Texas that warned motorists "Caution! Zombies Ahead!" and "Nazi Zombies! Run!!!"Both incidents occurred within weeks of various articles appearing online with descriptions of how to hack into the road signs, while pointing out that such an act is illegal.