VIDEO: Men entered Jordan's Fish & Chicken double homicide scene with guns drawn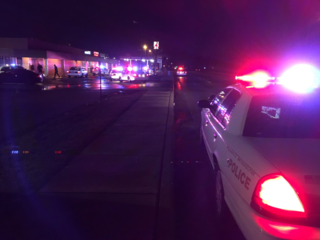 INDIANAPOLIS -- Two men walked into an east side restaurant with guns drawn late Tuesday night – setting up a confrontation that ended with the deaths of two employees.
Surveillance video from Jordan's Fish & Chicken at 9112 E. 21st Street shows the men entering the restaurant around 10:55 p.m. Tuesday. The men were wearing hoodies and had their faces obscured.
The video shows the men enter the store with their guns already out. They quickly jump the counter and head out of view. Off-camera, police say there was a robbery, and then the fatal shooting of two restaurant employees.
The men then exit out the front door.
IMPD released the surveillance video Wednesday in hopes of helping to find the men.
WATCH THE VIDEO IN THE PLAYER ABOVE
"We believe the motive was robbery at this point," IMPD Major Richard Riddle said. "What's unseen in this video is the actual robbery and the killing of these two innocent individuals working at the Jordan Fish & Chicken last night."
A family member confirmed the identities of the victims to RTV6 Wednesday as cousins Wesam Sammour, 34, and Ammar Shatnawi, 36.
Police say they believe the restaurant was just about ready to close when the robbery occurred. Late Wednesday morning, a sign was posted on the door reading "Sorry. We are closed. Family issue."
"Sorry. We are closed. Family issue." Words written on sign sitting in Jordan's Fish & Chicken on 9100 21st St. after double murder. @rtv6 pic.twitter.com/byCGopyiHi

— Eric Cox (@EricRTV6) January 4, 2017
Because the suspects obscured their faces, police weren't able to provide a specific description. Riddle said they are looking for "two individuals known to associate with each other with a red and a blue coat, known to carry firearms and known to have a propensity towards violence."
"We're hoping someone in the community has a conscience, does the right thing and may have to turn in their loved one," Riddle said. "Come forward. Do the right thing."
If you have any information regarding this incident, please contact Crime Stoppers at 317-262-8477. You can also text "INDYCS" plus your tip to 274637. Your tip can be reported anonymously.