Board approves $200K package for new superintendent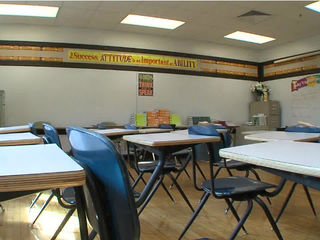 INDIANAPOLIS - The Community School Corporation of Southern Hancock school district will soon have a new superintendent.
Lisa Lantrip, who had been assistant superintendent at MSD Wayne Township schools in Marion County, will be taking over for Jim Halik when he retires next month.
The school board approved Lantrip's three-year contract, which includes a $150,000 base salary and other perks, bringing her total compensation package to more than $200,000.
Lantrip issued the following statement to RTV6:
"I am very excited to begin work as the new superintendent of the Community School Corporation of Southern Hancock County. It is a great school district with a tradition of excellence. I am joining a team of excellent and dedicated administrators, teachers and staff. I look forward to becoming part of this outstanding team.

"I have learned so much in the past 17 years in the MSD of Wayne Township. As a graduate of Ben Davis High School, I am proud of our schools and our school corporation. The teachers, staff and administrators are hardworking and dedicated to the students and community."
By law, school districts are now required to hold public hearings on superintendent contracts after Call 6 Investigator Kara Kenney exposed the former Wayne Township superintendent's $1 million retirement payout.
The law, called public law 148-2012, impacts every school district in the state and also requires districts to publish that public hearing on their website and in the newspaper.
Contracts must also disclose the full financial implications including salary, car allowance, insurance benefits, etc.
The Southern Hancock school district held a public hearing on Lantrip's contract on April 28.
Documents show Lantrip will receive $1,000 in performance incentive pay for each school year she receives an evaluation rating of "Highly Effective" or "Effective."
Other benefits include a $10,000 per year contribution to her retirement plan, as well as nearly $24,000 in health, vision, dental and long-term disability insurance.
The contract takes effect July 1 and ends on June 30, 2017.