Council to hire consultant following dual office complaints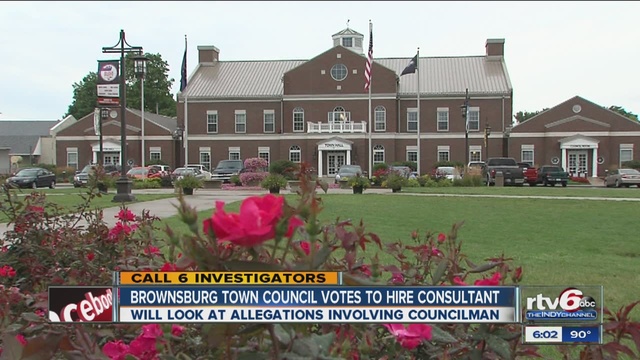 BROWNSBURG, Ind. - The Brownsburg Town Council voted Monday to approve using taxpayer money to hire an independent consultant following allegations Brownsburg Town Councilman Robert Kendall is holding multiple paid public offices, a possible violation of Indiana's dual office law.
Kendall and council president Gary Hood were not present for the meeting, held at 10:45 a.m. Monday, Call 6 Investigator Kara Kenney reported.
Council member Don Spencer said the town is not investigating itself, and the consultant will make sure the town "navigates through this issue properly."
"We're here today because of an allegation involving one of our town councilmen," said council member Don Spencer. "This is a step to regain some trust, dignity and respect that this council has lost with the community."
Rob Kendall has four jobs, including elected and appointed public offices.
Kendall serves on the Brownsburg town council, an elected position from January 2012 to December 2015 at a salary of $13,703.
He is also a member of the Brownsburg Redevelopment Commission and the Hendricks County Solid Waste Management District board, both appointed positions.
Documents provided by the Town of Brownsburg show redevelopment commission members and town council members appointed to the waste management board earn $100 per meeting.
Kendall also makes $45,500 as the director for the Indiana Board of Pharmacy, which is neither an elected or appointed position according to Ashley Hungate, spokeswoman for the Indiana State Personnel Department.
Some Hendricks County residents have raised concerns, filing complaints that Kendall violated Indiana's dual office holding law.
"It's corruption or ineptitude," said Kurt Disser, who filed complaints with the Hendricks County prosecutor regarding Kendall. "They just don't know what they're doing."
According to the Dual Office Holding Guide, a violation of the dual office holding law may result in removal from office, the loss of federal funding or a class D felony of conflict of interest.
Disser wants Kendall to step down.
Council members would not reveal the name of the consultant or how much the work will cost, but the tab will be picked up by taxpayers.
"Once the agreement with the consultant is finalized, that information will be made public," said Spencer. "In the spirit of cooperation and transparency, we want to make sure we don't make a misstep along the way, and that's the reason we felt it was necessary to bring in special counsel."
Hendricks County prosecutor Pat Baldwin, requested a special prosecutor look into the matter.
A judge appointed Boone County prosecutor Todd Meyer, who told Call 6 Investigator Kara Kenney he is reviewing the complaints.
The dual office prohibition was adopted by the framers of the Indiana Constitution to prevent consolidation of power among a small number of government officials, according to the Dual Office Holding Guide published by the Indiana Attorney General.
Holding two paid public offices can be a constitutional dual office violation, according to the guide.
The Town of Brownsburg has yet to release exact compensation figures for Kendall, but according to the Indiana Gateway for Government Units, Kendall received $1,080 in 2013 for serving on the Redevelopment Commission.
"I don't think hiring a consultant is a good way to spend the taxpayer money," said Disser after the meeting.
RTV6 political analyst Abdul-Hakim Shabazz has been following local government for 10 years, and said the dual office law is in place to help eliminate conflicts of interest.
"What you don't want is people double dipping," said Shabazz. "It's not uncommon to serve dual roles, the question is always are they being paid twice for the same job."
It's an issue that pops up a lot in Indiana because so many elected official positions are part-time.
"Criminal? No," said Shabazz. "Should (Brownsburg) have been paying more attention? Yes."
The Call 6 Investigators reached out to Kendall for comment via phone, email and through the town manager but did not hear back.
The Town released a statement at 4:28 p.m. Friday.
"The Town has reviewed this matter to make sure all action being taken is consistent with its Ordinances and it is communicating with the appropriate third party governmental agencies to resolve it," read the statement. "In that regard, the Town is fully cooperating with those agencies as part of this process.
With those discussions currently pending and ongoing, the Town will not be commenting further on this matter at this time. We will provide updates as appropriate through this process."
Kendall was hired by Nick Rhoad, executive director of the Indiana Professional Licensing Agency, on June 23, 2014 to his position as director of the Board of Pharmacy.
According to his job duties and responsibilities, Kendall must work with "local, Federal, and State agencies and organizations and the general public with interpreting, developing and implementing functions and resolving disputed issues."
Kendall is listed on Governor Mike Pence's campaign website as a "most loyal supporter."
As for the independent investigation, it's not yet clear how long that will take.
Follow Kara Kenney on Twitter: @karakenney6 | Facebook: KaraKenneyNews