Frequent lottery winners seem to defy the odds, data shows
Lottery to change procedures based on Call 6 work
INDIANAPOLIS - A six month Call 6 Investigation reveals some Hoosier Lottery players winning more than a hundred times, seeming to defy the odds and raising eyebrows of nationally known statisticians.
Call 6 Investigator Kara Kenney and Digital Producer Jordan Fischer obtained and analyzed winning tickets dating back to 1993, and they wanted to know how the frequent winners did it.
Their findings are already prompting significant security changes at the Hoosier Lottery.

Most Frequent Hoosier Lottery Winners
The investigation looked at not just the big jackpot winners you see on television, but also the frequent players flying under the radar, winning a lot of smaller prizes.
(Note: The Hoosier Lottery changed computer systems in March 2013, so you will sometimes see two sets of data)
The most frequent winner from March 2013 to June 2014 was David Haggard of Brownsburg, with 126 wins totaling $3,837.
Records show his most-played games are Powerball, Mega Millions and various scratch-offs.
Haggard declined to comment, but his wife acknowledged they play the lottery.
"You know we do the scratch-offs and things like that," Patricia Haggard said. "He does buy them every week."
MAP: Indiana's most-frequent lottery winners
The next most frequent winner for the 2013/2014 time frame was Tom Hatch of Portage, with 35 wins totaling $154,850.
Hatch also won 23 times from 1993 to 2013, for a grand total of $1.3 million in winnings since 1993.
His most-played game, according to data, is the Daily 4.
"I guess you'd call it luck," Hatch said in a phone interview.
Hatch said the Hoosier Lottery investigated him because his brother owns a liquor store in Portage.
The law prohibits lottery owners and members of their household from buying tickets in their own store.
"They've had me in an 8-by-10 room two to three times," Hatch said. "They investigated me a couple times, and everything's legit. Honest. They know I didn't lie. There was no stolen ticket. There was no cheating."
Michael Cuculic of Portage has won the Hoosier Lottery more times than anyone in the past 20 years, data shows.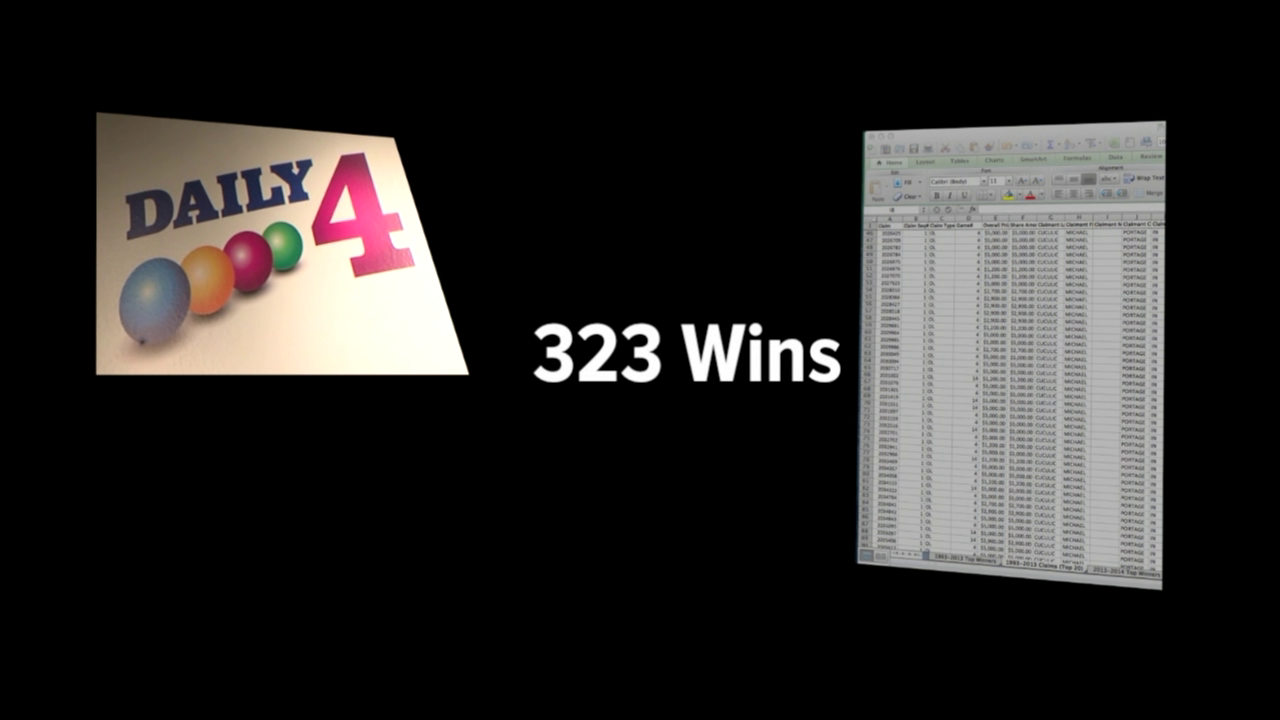 He's won 323 times, mostly from Daily 4, for a total of $1.2 million.
RELATED: How to get your fair share in a group lotto win
The Call 6 Investigators shared the lottery data with two statisticians -- UCLA's Skip Garibaldi and Jeffrey Rosenthal of the University of Toronto -- who both raised questions about Cuculic's number of wins.
"He would have had to have spent about $2.3 million on tickets, which comes to $320 a day on lottery tickets," Garibaldi said.
"This data provides very strong evidence that Michael Cuculic claimed many lottery prizes on tickets that he did not purchase," Rosenthal said.
The Call 6 Investigators tracked Cuculic to the liquor store where he works.
He took Kenney and a photographer into a backroom, where he denied spending $2.3 million on tickets.
Kenney: "You spent that much?"

Cuculic: "No, no, no."

Kenney: "So, how is this possible?"

Cuculic: "I don't know. I really don't. Just luck."
Cuculic claimed he played with a group, but Hoosier Lottery data shows he's never claimed a prize with a group.
Cuculic: "I have people with me, a lotto group, we have a group of people."

Kenney: "Right, but the data we have shows if it's group winnings or not. Have you been redeeming tickets for other people?

Cuculic: "Yes, no. (inaudible). I've played for people with my birthdays and stuff like that. Relatives' birthdays and stuff like that."

Kenney: "Have you been under investigation by the Hoosier Lottery?

Cuculic: "No, no, no."
The liquor store where Cuculic works sells lottery tickets, but the data shows Cuculic has not purchased any winning tickets from there.
The second most frequent winner from 1993 to 2013 is William May of Indianapolis, with 113 wins totaling $406,957, mostly from Daily 4 and Daily 3.
"I've just always been lucky," May said. "I won a lot of money, but I spent a lot of money too. I've got $100,000 worth of losing lottery tickets in my basement in tubs."
May said he has never been investigated by the lottery.
"They never questioned anything really," May said. "I've won a little bit, a lot of times. I've just never won the big one to get me over the hump."
May said he's had to file for bankruptcy due to problems with the family business.
"Playing the lottery was like a full-time job," May said. "Most of the time I let the computer pick the numbers."
Next: Lottery Says They Look For Red Flags
%page_break%

Lottery Says They Look For Red Flags
The Call 6 Investigators took questions about Cuculic and other frequent winners to Hoosier Lottery Chief of Staff Carrie Stroud.
"(Cuculic) is someone we're familiar with," Stroud said. "He seems to be very lucky. I guess we don't really dive as deep in looking at the statistical analysis, but he is someone we have looked at because of his level of prizes."
GALLERY: Top 20 luckiest lotto retailers in Indiana
Kenney shared her findings with the lottery, including Top 20 lists of frequent winners.
"Many of them, we are (looking at)," Stroud said, adding none are facing criminal charges at this time. "It's a game of chance, so people that play a lot could tend to win a lot."
The lottery has five security investigators for more than 4,300 retailers in Indiana.
Stroud said the investigators do find fraud and wrongdoing, with some players cashing in tickets for other people, so they can avoid paying back taxes and child support, which are garnished by the lottery.
"If they do owe back taxes or child support to the state, then we will withhold that amount from their winnings," Stroud said, adding the state's collected $6 million in debts since the lottery's inception.
Red flags include when the last name of the claimant matches the name of someone who owns or manages the retailer.
"We have found instances where people are making choices to play when they shouldn't," Stroud said. "We've found instances where clerks are playing at their own stores or retail managers are playing at their own stores, so yeah it definitely does happen."
Criminal charges don't happen often with the lottery, but they do happen.
Mickey Stone of Winchester (pictured below) is criminally charged with unlawful purchase of a lottery ticket after he allegedly bought a winning scratch-off at the liquor store where he worked.
He's scheduled for trial in March, and his attorney did not respond to a request for comment.
In April 2013, Mohinder Singh Dhillon and Gurdeep Dhillon of Fort Wayne pleaded guilty to conversion after lottery investigators uncovered them fraudulently attempting to redeem winning lottery tickets.
The lottery does not fine or ban players from playing the lottery, Stroud said, but it can withhold a prize and/or revoke a retailer's ability to sell lottery tickets.
A recent lottery investigation resulted in the August 2014 termination of the lottery license for the Marathon Food Mart in Richmond, which included the removal of the lottery terminal and bins.
"We found out an employee or relative of the store owner was playing the store," Stroud said.
When reached by phone Feb. 16, the new store owner Z Kahn said they had taken over as owners within the past month.
Lottery spokeswoman Courtney Arango confirmed the location is back to selling lottery tickets, as of Jan. 6.
Click or hover over a county on the map below to see how many winning tickets and how much in prizes its retailers paid out in 2013-2014:

Lottery Updates Security Procedures
Until now, the lottery has focused investigations on winners who meet a certain dollar threshold, a number the agency did not want to make public.
The Hoosier Lottery admitted it needs to do more to scrutinize the state's most frequent winners.
"Your investigation has helped us come up with ways we can improve," Stroud said. "Your inquiries actually brought some things to the forefront of ways we can improve."
The lottery is changing its software to better flag people who win a lot.
From now on, the lottery will run someone's Social Security number during the claims process to find out how many times they've won.
"We will be able to see the frequency of wins, and that will put that information to the surface a lot more readily for us," Stroud said.
The lottery's security team will then determine when to interview players and if further investigation is warranted.
The lottery said they want to make sure legitimate players can win.
"Integrity is definitely our strongest asset," Stroud said. "If people don't think they're going to win, they're not going to play."
Prompted by the Call 6 Investigation, the lottery is also tweaking its Retailer Playbook, a newsletter received by retailers, to include information on the number of denied claims due to fraud.
The Hoosier Lottery said people can report fraud on their security hotline at 1-800-695-6886.