Investigators find, arrest child support deadbeats in growing Indiana trend
Johnson, Monroe, Elkhart counties pioneer approach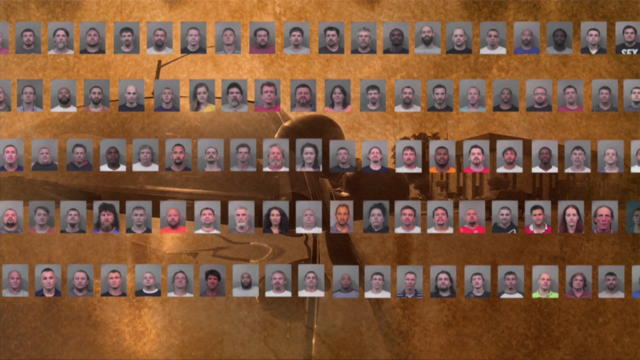 INDIANAPOLIS - Some county prosecutors in Indiana have begun hiring their own child support investigators with law enforcement powers as a more aggressive way to find child support fugitives.
Counties employing this approach said it is getting results to address a multibillion-dollar problem in Indiana, Call 6 Investigator Kara Kenney reported.
Indiana parents owe more than $2.3 billion in child support arrears, according to figures from the Department of Child Services . 
Taxpayers pay for the problem, because many parents who aren't getting that child support end up going on government programs to make ends meet.
Single Mom Struggles Without Child Support
Lavonda Hendrickson  of Columbus, Ind., has been a single mom to her daughter, Shawntel, for nearly all of her 19 years. Raising Shawntel has been a joy, but it has not been easy.
"It's sad. It's really hard, but after so long you have to deal with it," said Hendrickson of having an absent father to her daughter.

Hendrickson's ex-fiance, Shawn Evard, is what many people would call a deadbeat, owing more than $44,818 in child support for Shawntel.
The lack of money meant many nights where Hendrickson didn't eat so her daughter could.
"It was very upsetting," said Hendrickson. "I struggled a lot, but it takes two to raise a child. When you lay down with someone and a baby is created, that means there's two people that are responsible for that child, not just one."
Data shows single parents raising their own kids in Indiana make up about 10 percent of all households.
Hendrickson, at times, relied on food stamps as a last resort.
"It's embarrassing to say, but it is what it is," said Hendrickson. "It's sad to see little kids go through this."
Evard became a wanted man in 2005 after failing to show up to a child support hearing, and he was on the state's Most Wanted Child Support Evaders .
PHOTOS | Indiana's Most Wanted Child Support Evaders
"He needs to pay for what he has not done," said Hendrickson.
Johnson County Uses New Weapon In Child Support
Evard was a wanted man until Troy DeHart came into the picture.
DeHart is the Johnson County prosecutor's new child support investigator, a new weapon in tracking down child support fugitives.
Most counties still rely on warrants divisions of local sheriff's departments to find deadbeats, but those officers are often overloaded with stacks of warrants.
DeHart found and arrested Shawn Evard with the help of Roachdale police in August 2013.
"It's a good feeling to get the ones that thought they'd gotten by with it," said DeHart.
PREVIOUS | Indiana launching child support registry
DeHart joined the Johnson County Prosecutor's Office in April 2013, helping capture more than 100 people, including deadbeats on the run for years.
DeHart also helped capture Ronald Lee Potts, once featured on the Most Want Child Support Evaders and featured in a 2012 Call 6 investigation . 
DeHart has methods of getting fugitives to answer the door, including pretending to be a high school buddy or a construction worker.
DeHart's salary is $46,818. Prosecutor Brad Cooper said much of that pay is reimbursed through federal funding.
"The more child support we collect, the more incentive pay the feds and the state sends back to us because they're saving that money in welfare dollars," said Cooper. "It's saving our office money. It's not costing us any more than we were already paying."
Johnson County has collected $156,000 in child support from the found fugitives DeHart has been involved with since their arrests.
The Call 6 Investigators spent some time with DeHart, hot on the trail of child support fugitives, including Matthew Andreas, wanted for failure to appear in court on child support issues.
Andreas owed $45,595 in child support for one child the day of his August arrest.
"I'm behind, been unemployed," said Andreas. "I missed a court date. I'm going to jail."
Kenney spoke with Amanda Andreas, Matthew's ex-wife, from her home in Florida.
She said Andreas had only recently begun paying $50 a week this summer, and that it's been hard raising her child without financial support.
"I'm glad they found him," said Amanda Andreas. "I don't necessarily want him in jail, but I'm glad they found him so they can find him if he stops paying again."
Before an arrest can be made, DeHart spends hours searching the Internet and digging through records for clues on deadbeat parents' whereabouts.
It's tedious work, but DeHart believes it is worth it.
"Kids are getting the short end of the stick," said DeHart. "They're stealing from their kids and they're stealing from their future, and with that, it also throws the burden on us the taxpayers."
The Call 6 Investigators rode along as DeHart tracked down Paul Jajuga, who failed to show up for court on a child support issue.
"I owe a little bit, $250," Jajuga told Kenney as police escorted him to their vehicle.
But prosecutors said that's not true. Jajuga owed $8,637 as of his Aug. 22 arrest, and the last time he paid was December 2013.
Jajuga also had an active warrant out of Hamilton County for driving while suspended with a prior conviction, a Class A misdemeanor for which he also failed to appear for court in February 2014.
DeHart is still looking for dozens of child support fugitives, hoping to get them to own up to their responsibility.
Daman Durivage has five children and owed $2,806 as of Sept. 9.
Prosecutors said Durivage is supposed to be paying $25 per week in child support, but has only paid child support in the past two years through posting bond money to bail himself out of jail.
VIDEO | Hear what Durivage had to say during his arrest
Durivage appeared to have a "light bulb" moment as he headed to jail.
"If you have children, pay for them," Durivage said. "They need the best you can provide them."
DeHart said he could not make all the arrests without the support of local law enforcement and Indiana State Police, who often go with DeHart as an additional safety measure.
Other Counties Finding Success With Investigators
Monroe, Cass, Elkhart and Miami counties also have their own child support investigators with arresting powers, although their involvement varies greatly from county to county.
Monroe County Prosecutor Chris Gaal believes his office was among the first, if not first, in the state to bring in its own officer to track down deadbeats.
Gaal brought in Bill Conway in 2007 to serve as Monroe County's child support investigator.
"I feel like we're often ahead of the curve," said Gaal. "Unless there's someone dedicated to finding (deadbeats), it's going to fall through the cracks. Law enforcement have other priorities and child support is just not at the top of the list."
Conway was with Missouri State Patrol for 29 years, including 20 years in the Criminal Investigations Bureau.
"The kids are the victims here. They're the ones that are not getting the money," said Conway, who works part time, earning $17,000 a year.
Gaal said federal government helps pick up the tab.
"We're saving the taxpayers money," said Gaal. "Bill's salary is paid entirely out of incentive funds. There's no direct taxpayer support to pay this."
According to the Federal Office of Child Support Enforcement, for every $1 spent, the program collects $5.31.
"This is one of the few crimes where we actually get money back for the taxpayers," said Conway.
Conway's work has helped whittle down Monroe County's Most Wanted list over the past seven years and has aided in the arrest of 100 people a year.
Conway has seen some interesting characters, including parents who don't pay child support just to stick it to their ex.
"We've had noncustodial parents who have quit really good paying jobs and went to jail because they didn't want to pay the spouse," said Conway.
Gaal said other counties will be considering the investigative approach.
"People need to hear about it," said Gaal. "It's good that this is receiving some attention now. Clearly, it's made a difference. It saves the taxpayers money and pays for itself. There's no reason not to do this."
Elkhart County added its child support investigator position in 2007 and added a second child support investigator in March 2014.
Elkhart County's annual child support collections went from $10 million in 2003 to about $24 million in 2014.
The amount of back support owed by the individuals arrested between 2011 and August 2014 totals nearly $13 million.

For smaller counties, the model might not make sense, but the Indiana Department of Child Services expects smaller communities may start pooling resources to hire their own child support investigator.
Next Page | Putting Deadbeats Behind Bars: Does It Help?
Putting Deadbeats Behind Bars: Does It Help?
Officials want to clear up a misconception that putting deadbeats in jail or prison somehow keeps them from paying.
An arrest is used as a way to get someone into court and in front of a judge to resolve a child support matter.
"I try to tell them, 'Going to court is to your benefit,'" said DeHart.
Judges sometimes use jail time as a last resort to get deadbeats to pay up.
"If a suspended sentence doesn't work, yeah you're going to go sit in jail," said Johnson County Judge Marla Clark. "That's the corner you've painted yourself into. It's frustrating."
Clark said she gives people 15 minutes to show up in court, and if they don't have a good excuse, she issues a warrant for their arrest.
"I'm collecting child support on kids that are older than me," said Clark. "That's how long some of these cases drag on."
Conway said he commonly hears the excuse that jail will prevent people from paying.
"The reason they're going to jail in the first place is because they weren't paying in the first place, it's that simple," said Conway. "If they were paying, they wouldn't be going to jail."
Although child support is often a civil matter, prosecutors can file a felony criminal charge.
"Sometimes, the ultimate motivation is the filing of a felony," said Clark. "Sometimes, I will encourage the state to pursue that as well."
Pain Still Lingers For Family
           
Despite struggling financially and emotionally, Shawntel Hendrickson, 19, is now in college at Vincennes University.
Her father is serving time in prison for felony nonsupport of a dependent at Wabash Valley Correctional Facility, 26 miles away.
"He finally has to face the music," said Shawntel Hendrickson.
But the pain of an absent father still lingers for the student.
"It made me feel unwanted, really," she said. "It made me feel like, 'Why am I not good enough to have the support of my father?'"
Evard agreed to speak with Call 6 Investigator Kara Kenney from state prison. Thursday on The News at 11/Friday on The News at 7:00 on RTV6, Kenney sits down with Evard to find out what went wrong and whether he will pay his daughter the support she's still owed.
-----
Updates on the three men arrested during filming of this story:
Mr. Durivage is out of jail. Since his arrest, the only payment he made was the bond of $500 to get out of jail. His arrearage is $2,774.73 as of Oct. 31, 2014. He has another court date on Dec. 10, 2014, for civil contempt for failure to pay child support/body attachment reissue. 
Mr. Andreas is also out of jail. He has paid $450 since his arrest on Aug. 20, 2014. His arrearage is $45,782.07 as of Oct. 31, 2014. He was set for a civil contempt for failure to pay child support hearing Thursday, provided 50 job applications to the court, and was reset to Jan. 7, 2015 at 1:30 p.m. to determine whether he is going to be compliant.
Mr. Jajuga  is out of jail. He paid the $250 bond money to get out of jail on his body attachment. Otherwise, he has failed to make any other payments. His arrearage is $8,387. He is reset for civil hearing on his failure to pay child support/body attachment reissue on Dec. 15, 2014 at 1:30 p.m.