Marion County prosecutors: Man put dog in oven, killing animal
Joel Clark accused of baking friend's dog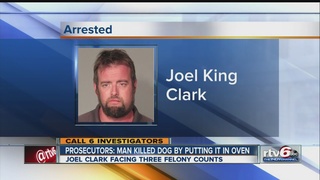 MARION COUNTY, Ind. - Marion County prosecutors say a man killed a red Miniature Pinscher by putting it in an oven, Call 6 Investigator Kara Kenney reports.
Joel Clark, 37, is facing felony charges of killing a domestic animal and torturing or mutilating a vertebrate animal.
According to the probable cause, Clark was on house arrest and living with friends, Christina Kelley and Richard Smith, back in May.
Kelley discovered the dog, Zane, dead in the bottom of a trash can on May 18.
She later opened the over door and saw a cookie sheet and pizza pan with red dog hair and what appeared to be a toenail from a small dog.
According to the probable cause, officials performed a necropsy and found Zane's whiskers were burned, and he had burn marks on his legs and feet.
"There was blood on the dog's snout and mouth," read the report.
The remains of Zane were sent to Purdue University for a necropsy.
Veterinarian Mark Petersmann said the most likely cause of death was thermal pulmonary injury leading to pulmonary edema, also known as fluid buildup in the lungs.
Kelley told officers there were not any disagreements with Clark that may have led to the killing of the dog.
Kenney was unable to reach Clark's public defender for comment.
He is scheduled for a pretrial conference September 10.
He is also facing a felony escape charges for violating his home detention order.
-----
Follow Kara Kenney on Twitter: @karakenney6 | Facebook: KaraKenneyNews