Report: Copper wire to blame for 2013 20K-gallon pipeline leak on northwest side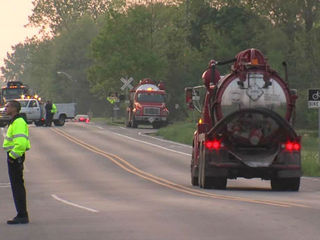 INDIANAPOLIS - The Call 6 Investigators have obtained documents showing the preliminary cause for a pipeline leak that dumped 20,000 gallons of diesel fuel into a northwest Indianapolis neighborhood last summer.
Call 6 Investigator Kara Kenney obtained the operator's accident report, which says the leak was caused by a "third party's copper wire laid over the pipeline that caused an electrical arc."
It's unclear who the wire belonged to or why it was there.
The leak happened May 9 at 56th Street and Guion Road, shutting down roads for several days as crews cleaned up the area, including a wetland.
According to the document, an estimated 539 barrels of diesel fuel were discovered at the scene.
The United States Department of Transportation Pipeline and Hazardous Materials Safety Administration (PHMSA) said it is still investigating the cause of the failure.
Kenney reported last year the pipeline had previously been cited by PHMSA.

It happened on the Marathon's RIO pipeline, which runs from Robinson, Ill. to Lima, Ohio.
Marathon operates 12 pipeline systems in Indiana, according to company spokesperson Brandon Daniels.
When the leak happened in May of 2013, the Call 6 Investigators submitted a public records request under the Freedom of Information Act asking for previous inspection records on that same pipeline.
Records provided by PHMSA show in September 2007, Marathon Pipe Line LLC paid an $87,500 civil penalty for inspection violations, including a violation for the "RIO" pipeline.
According to records, inspectors found Marathon failed to inspect the surface conditions along the pipeline system, in "certain specified areas in Carmel, Ind."
"Respondent's use of aerial patrolling was ineffective due to vegetation overgrowth," read a 2008 order from USDOT PHMSA. "Each operator shall, at intervals not exceeding 3 weeks, but at least 26 times each calendar year, inspect the surface conditions on or adjacent to each pipeline right of way. Methods of inspection include walking, driving, flying or other appropriate means of traversing the right of way."
Records show federal inspectors also issued warnings to Marathon on the RIO pipeline including "alleged failure to maintain a valve necessary for the safe operation of a pipeline" and "alleged failure to electrically test each electrical isolation."
The same report also warned Marathon Pipe Line LLC about failing to fully inspect portions of its pipelines for evidence of corrosion.
The pipeline has been fixed and is now back up and running.
"Additionally, all released product has been recovered, and the impacted area has been remediated and restored," Daniels said in an email to RTV6 last year. "MPL strives daily to ensure the safety and security of all the residents in the communities in which we have the privilege of operating. Furthermore our commitment to environmental responsibility remains the focus of all of our employees."
Daniels said Marathon Pipe Line strives to ensure the safety and security of residents.
"Furthermore our commitment to environmental responsibility remains the focus of all of our employees. To that end, we have a rigorous maintenance, inspection and monitoring program for all of the pipelines in our network," Daniels said in a statement to RTV6 last year. "These programs help us to preserve the integrity of each of our pipeline systems. One such example is MPL's public awareness campaign that advocates for safe-digging practices and using the '811 Call Before You Dig' telephone number. This helps to prevent damage to underground pipelines during third-party digging projects."
Follow Kara Kenney on Twitter: @karakenney6 | Facebook: KaraKenneyNews