Work stopped on Kokomo development project amid planning concerns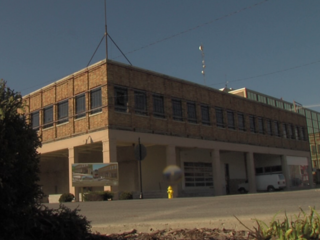 INDIANAPOLIS - Construction crews have stopped work on downtown Kokomo development project, the Firestone Building, amid questions over lack of planning, Call 6 Investigator Kara Kenney reported.
Kipcor is developing the building, and according to a June news release from the Indiana Economic Development Corporation, California technology firm Systems in Motion LLC is expected to lease 25,000 square feet in the Firestone building.
John Erickson, spokesman for the Indiana Division of Fire and Building Safety, said they did not force the crews to stop work, however Kipcor failed to submit a construction design release.
"The agency does agree with the decision that construction should be delayed until plans are filed and approved," Erickson wrote in an email to Kenney. "The state requires that construction plans are filed with the agency's plan review section and that the person or company building, expanding or renovating the structure have a construction design release before work begins."
Erickson said Tuesday he was not aware of anyone from Kipcor contacting the state fire marshal or plan review personnel about the Firestone building.
The work stoppage comes less than two months after a jobs announcement at the Firestone building with Gov. Mike Pence.
In April, the Call 6 Investigators raised questions about Kipcor and its president, Jeff Broughton.
Broughton settled charges with the Federal Trade Commission in 2010 and agreed to be subject to a court order after facing accusations he took advantage of financially distressed homeowners.
According to the order filed in the U.S. District Court for the Central District of California, Broughton is banned from providing mortgage loan modification and foreclosure relief services.
The FTC has not banned him from any and all real estate activity, according to FTC spokeswoman Elizabeth Lordan.
According to information provided by the FTC, an $11.1 million judgment was issued against Broughton, but it was suspended based on his inability to pay.
Broughton has invested more than $2.7 million in dozens of commercial projects like the Firestone Building and houses in the community, city operations director Randy McKay said.
"We have an engineering report from this site conducted a few years ago that verified this facility is structurally sound, it is my understanding that the developer has arranged for a second report to be concluded by the end of the week that will support the original findings," McKay wrote in an email to Kenney Wednesday.
"It is our belief that action taken last week is politically motivated and is a determinate [sic] to the continued development of our City; we believe these reports will support our belief."
McKay is referring to Howard County Republican Party Chairman Craig Dunn, who has been critical of Broughton and raised safety concerns about the Firestone building, which used to be occupied by the Howard County Republican Party.
Dunn said in 2007 they were ordered to vacate the premises by the city building inspector because of falling concrete.
"Since that time, it's my understanding there has been nothing done to improve this facility," Dunn said. "This is not a political thing; this is my concern from a public safety standpoint."
Broughton does business under a slew of business entities including Bincco, Kipcor, Home Banc Center and Home B Center.
When Kenney checked with the Nevada Secretary of State's office in April, Kipcor was in default status, which means the company failed to renew its list of managers and officers before the due date.
Kipcor is now in active status, according to the Nevada SOS's website.
Broughton has declined Kenney's requests to go on camera and did not respond to an email seeking comment about the Firestone building.