PHOTO: Motorcyclists sought in fatal crash that killed Shelby County woman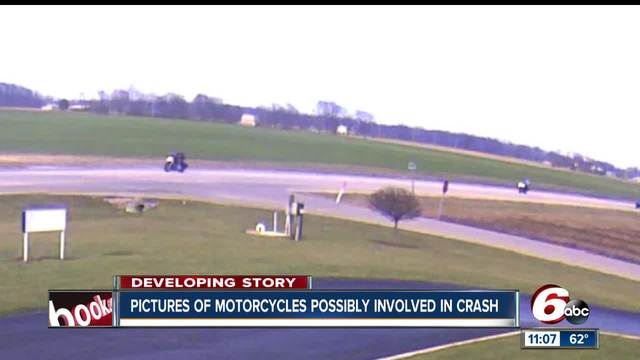 SHELBY COUNTY, Ind. -- Police are asking for the public's help to identify the drivers of two motorcycles they believe may have caused a crash that killed a young mother in Shelby County last month.
The crash happened on March 24 near the intersection of C.R. 325 and S.R. 44.
Investigators say, Heather Poe, 26, was traveling eastbound when she braked hard to avoid slowing traffic ahead. Her car then skidded to the right and into oncoming traffic where it was struck by another vehicle.
Poe was pronounced dead at the scene. The driver and passenger of the second vehicle were treated for minor injuries and released.
Witnesses told police that a pair of cruising style motorcycles were driving recklessly through traffic and that may have been what caused Poe to hit her brakes so quickly.
Police said the motorcyclists did not stop after Poe's collision, instead continuing westbound on State Road 44 and possibly then onto I-74.
The following photo was released from a nearby surveillance camera.
Both motorcycles were driven by males with a female riding on the back. Investigators are working to identify all occupants of the two motorcycles.
The Shelby County Sheriff's Department is asking anyone with information about the incident to contact them at 317-398-6661 or 888-387-1444.
RELATED | Motorcyclists sought in young mother's fatal crash in Shelby County | Woman killed in two-vehicle crash in Shelby County