Indy crews rescue puppy from sewer drain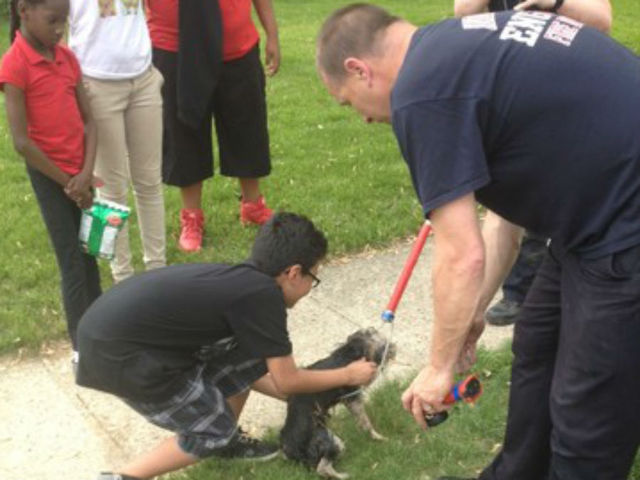 INDIANAPOLIS - Indianapolis first responders rescued a puppy from a sewer drain on the city's northeast side Tuesday evening.
Police received a call just before 5 p.m. that a that puppy fell into a storm drain just south of 34th Place and Wellington Avenue, officials with the Indianapolis Fire Department said.
IMAGES: Indy crews rescue puppy from drain
The puppy, named Lasy, somehow wriggled her way into the drain through the street opening. An officer with Indianapolis Animal Care and Control said she could hear the puppy barking, but wasn't sure where the puppy was within the drain.
IFD arrived and lifted three sewer lids to look for the dog, but couldn't see her. IFD crews said they feared the worst, but they used a nearby garden hose to "gently flush the puppy out with a small amount of water."
That didn't work so they used a hand line off the fire engine. After draining the tank of all 500 gallons, they still didn't see the puppy.
Firefighters even used a ladder to go down into the drain to see if they could find the puppy, but that didn't work either.
Finally, the crews used a nearby hydrant to refill their tank. IFD officials said they pumped about 300 gallons of water into the storm drain when they noticed several attempts by the puppy to poke her head out.
IACC officers were then able to use a mesh net to rescue the puppy.
Authorities said Lasy's owners were ecstatic when she was rescued. Officials said Lasy was dirty and smelly after her time in the drain, but she was perfectly fine.