Indy Do Day: How to give back to your community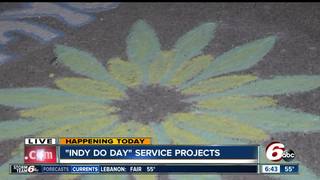 UPDATE: A total of 811 chalk drawings earned Indianapolis the Guinness World Records title for Largest display of chalk pavement art with over 800 drawings.
INDIANAPOLIS -- Indy Do Day, which actually lasts three days, is a community-wide effort to give back and make Indianapolis a nicer, safer and cleaner place to live.
Organizers for Indy Do Day say their goal is 20,000 people for a citywide day of service from Sept. 28-30.
Thursday morning, Keep Indianapolis Beautiful used chalk art to spread awareness of service for Indy Do Day.
"You can go out and help," Ashley Haynes of Keep Indianapolis Beautiful said. "It doesn't have to take five hours, it can take 15 minutes. Step outside and pick up litter in the street."
Keep Indianapolis Beautiful is covering trails with sidewalk chalk for 36 miles across the city, which would be a Guinness World Record.
For more information on Indy Do Day, and to learn how to help out, click here.
MORE TOP STORIES | Indy's most dangerous neighborhoods 2017 | Witness who held IUPUI crash victim's hand: 'I really wish I could have known her' | 18-year-old shot, killed at park on Indianapolis' northeast side | Duke customers hit with sticker shock after company says 'human error; caused erroneously low bills | Home tour: 20-acre modern prairie home in Zionsville
Top Trending Videos