Indy man reunited with dog missing since November
Williams hired PI, rented roving billboard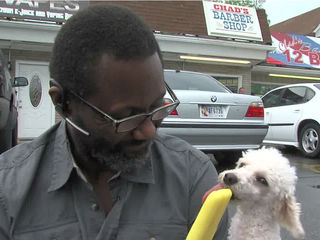 INDIANAPOLIS - It was a happy reunion for an east-side Indianapolis man who went to great lengths to get back the furriest member of his family.
Eddie Williams was finally reunited with his poodle Boomer on Thursday.
Williams said the dog was stolen out of his car at a gas station near 25th Street and Sherman Drive last November and has been missing ever since.
Williams did everything he could think of -- including offering a reward, hiring a private investigator and renting a roving billboard.
Just last week, Williams said he was at a gas station on the south side filling up his tank when he saw a woman holding a dog that looked very similar to Boomer.
When he recognized his pet from a surgical scar, he demanded the dog back but the woman ran away and demanded a reward.
Eventually, Williams got the police involved -- including one detective that sympathized with his story.
"As an animal lover myself I can empathize with Mr. Williams, and he was a wonderful dog parent and he's the kind of parent that every animal wishes they'd have. He has been wonderful, his devotion never wavered and it's paid off because he didn't give up and he was an inspiration to me honestly," said Detective Cheryl Cameron with the Indianapolis Metropolitan Police Department.
As for their future together, Williams said they will head home and he will get Boomer a Pacers jersey so they can cheer on the team together.