Indy teen finalist in national scholarship competition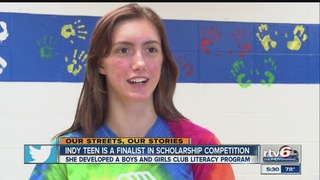 INDIANAPOLIS - A local 16-year-old girl who beat the odds to avoid a life on the streets wants to help others do the same.
Ruby Smith has received national attention for her efforts with the Lilly Boys & Girls Club of Indianapolis. Smith mentors troubled teens, she is an educational leader for young kids and she inspires her friends.
Those who know Smith well said it is time for her to get some well-deserved recognition.
Smith has a pretty good jump shot and it is something she works hard at as the only girl on her basketball team.
"Being on the boys basketball team, I meet a lot of kids who you know, they are good at sports, but they are not good at school or they don't run with the right crowd," Smith said.
Smith is known for her work outside the gym too. Like other Boys & Girls Club mentors, she lives in a neighborhood where gangs and drugs are as easy to cling to as work and school.
She has chosen the better path for herself and works with her teammates to do the same.
Her friends admit her stock would rise if she won $50,000, which she very well could. Smith is one of five national finalists for the 2014 Maytag Dependable Leader Award.
The prize is awarded to a Boys & Girls Club Mentor who shows commitment to excellence in his or her community.
Aside from mentoring her troubled peers, Smith successfully wrote a grant to create a literacy program where teen club members read to younger kids.
"Once we would finish a book, their face would light up and they would get real excited like you open up a door of imagination and it was really great to see other kids excited about learning," Smith said.
Smith doesn't work as hard as she does for money, glory or to win the admiration of others. Her motives seem to be more simple than that.
"It's a cool thing to know that you helped somebody," Smith said.
The $50,000 prize will be awarded in the form of scholarship money. Voting ends Sept. 19. Click here to vote or learn more -- http://bit.ly/1wcJD4O
Follow Chance Walser on Twitter: @chancewalserrtv | Facebook: Chance Walser