Muncie teen injured in crash defies odds to walk again
Kelly suffered spinal cord injuries in 2013 crash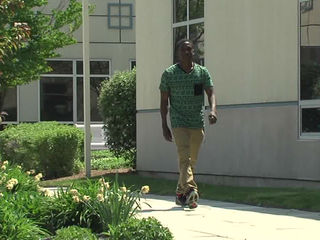 MUNCIE, Ind. - A Muncie teen who was told that he likely wouldn't walk again is proving doctors wrong and being honored for his accomplishments.
Aaren Kelly, 19, suffered spinal cord injuries in a 2013 Muncie car accident.
The crash happened on a curvy portion of South Burlington Road. The vehicle he was in slammed into two trees and took out a pole. Kelly was a passenger in the back seat.
Kelly was critically injured, hooked up to tubes and his life was falling apart.
"They told me that it was a slim, slim chance that I would walk again," Kelly said.
One year, multiple surgeries and hours of physical therapy later, Kelly is defying the odds.
"He had a remarkable recovery. He came from where he wasn't really able to move his legs where he didn't really have much sensation and he regained all that so much so that he's back playing basketball," spinal cord injury specialist Dr. Katie Stenson said.
Kelly was honored as Patient of the Year by Rehabilitation Hospital of Indiana on Wednesday. He received a certificate and a brick with his name that will be placed, along with past honorees, on the "RHI Path to Independence," located on the grounds of the hospital.
He knows who he thinks is responsible for his comeback.
"I describe it as glorious. Because I give all the glory to God and it is his glory over my life and over my body that helped me recover," Kelly said.
Kelly will need yearly check-ups. He loves sports, but doctors said he should avoid violent contact sports.
Kelly had to repeat his senior year in high school because of the injuries he suffered in the crash. He plans to eventually go to college and major in business.
Follow Derrik Thomas on Twitter: @derrikthomas