Rescue mission's youth bus found thanks to help from social media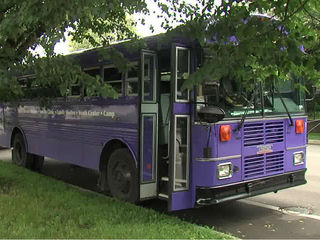 INDIANAPOLIS - Leaders at an Indianapolis rescue mission said their prayers were answered Wednesday.
Good News Ministries on the city's east side turned to social media after their youth bus was stolen Wednesday morning.
Leaders noticed the big purple bus was missing from the East Washington Street center. Assistant Director Ben Evans said they use the bus nearly every day to pick up and drop off up to 80 kids.
"We've had staff vehicles stolen, but as far as a giant bright purple bus being stolen, that's kind of a big deal and we're kind of surprised by that," Evans said.
Leaders said they think the bus was stolen overnight Tuesday or early Wednesday morning. They reported the stolen vehicle to police and posted the news on Facebook.
Many of the group's 800-plus followers shared the post and after a little more than an hour, Good News Ministries received some good news: someone spotted their bus near 20th and Illinois streets.
"Apparently a mother and her son were driving up Illinois here and the son said, 'hey look mommy a giant purple bus,' and an hour later she saw the post and said, 'no way,'" Evans said.
Evans said the paint shop mix-up that left them with a bright purple bus has proven to be a blessing in disguise.
A mechanic said the bus was hotwired and sustained thousands of dollars in damage. Until the bus is fixed, the center will use a small bus and make three times as many trips.
The Indianapolis Metropolitan Police Department was investigating.
Follow Ebone Monet on Twitter: @ebonemonet26 | Facebook: Ebone Monet