Scarf Bomb: Anonymous group leaves warm gear with warm notes around the Circle in Indianapolis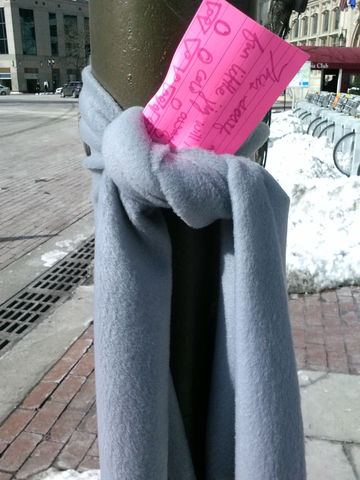 INDIANAPOLIS - Dozens of knitted scarves were ready for the taking Monday on Monument Circle after an anonymous "scarf bombing."
No one seems to know who left the roughly 40 scarves hanging on poles and parking meters, but there were notes that said they were free to anyone who needed to stay warm.
The notes were funny, too. One of them read: "Roses are red, violets are blue... JK violets are violet!"
"Knit bombing" is a growing movement around the country.
MORE | Knitting enthusiasts go rogue with yarn-bomb graffiti in Indianapolis
Anonymous knitters make scarves and hats to put on statues or simply decorate public places.
Some call it art; others say it's graffiti.
Knit bombing, or in this case, scarf bombing, has been going on for a couple years now in Indianapolis, and this is one of the first times we're seeing it as a way to help the homeless and other people in need.
After RTV6 broke this story, a group from LifeJourney Church (located at 56th Street and Keystone Avenue) reached out and let us know earlier this month, it did the same thing.
The group hung scarves and hats it had collected all around Veterans Memorial Plaza. They had notes on them, reading: "These are not lost. If you are cold, and in need of some warmth, please take. God bless you!"
-----
Follow Shannon Samson on Twitter: @shannonsamson