Richmond Hill: Who is Monserrate Shirley?
Set to testify this week in ex-boyfriend's trial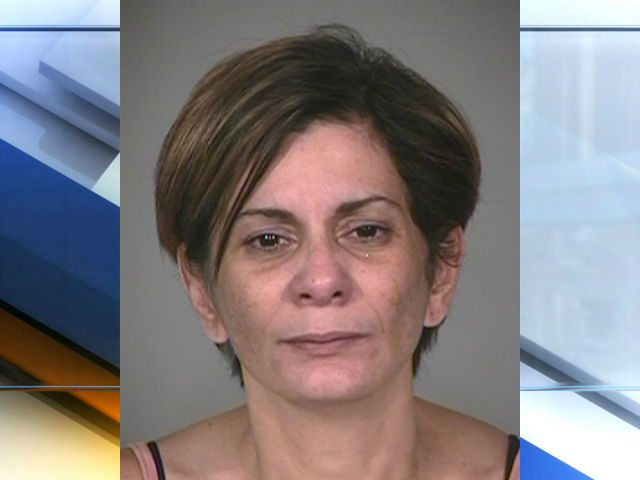 Who is Monserrate Shirley? The answer depends on who you ask.
Before Nov. 10, 2012, few of her neighbors had met Shirley. Those who did knew a skilled ICU nurse who had primary custody of her daughter Brook following an acrimonious divorce. Some of her neighbors knew her ex-husband, John Shirley, who'd formerly lived with her in the Richmond Hill neighborhood.
Few, if any, had met her new boyfriend, Mark Ray Leonard.
MORE | Mark Leonard's sister: Monserrate Shirley 'overly in love' with Mark
Just after 11 p.m. on Nov. 10, 2012, Shirley's home at 8349 Fieldfare Way exploded. The blast collapsed the homes immediately to the north and south of Shirley's home – trapping the Olvey family and killing Dion and Jennifer Longworth.
At first, neighbors thought they would be searching for Shirley's body. When they found out she'd been out of town at the time, they counted her among themselves: a victim.
Only a few months later – after a tearful TV interview in which Shirley declared her innocence and then begged for privacy, and then a second, equally tearful announcement of her indictment on arson and murder charges – neighbors' opinions of her had changed.
PREVIOUS | Monserrate Shirley, Mark Leonard plead for privacy after 'nightmare' of explosion | Monserrate Shirley gives tearful 2012 interview: 'I have nothing to hide'
Neighbor Doug Aldridge perhaps summed it up most succinctly: "I think she lied to us from the very beginning."
A deadly plot
In December 2011, Mark Leonard moved in to Shirley's home on Fieldfare Way. Shortly thereafter, she increased her insurance coverage on the home to $300,000 at Leonard's suggestion.
By July, Shirley said, Leonard had hatched a plot to burn down the house to collect the insurance payment.
PREVIOUS | Richmond Hill: Forensic audit shows suspects' huge debts, gambling habits | Monserrate Shirley filed insurance claim saying accidental fire destroyed home
In a plea agreement reached between Shirley and Marion County Prosecutors in January 2015, Shirley signed a statement of facts corroborating many important parts of the State's case against Mark Leonard and his brother Robert Leonard – notably that they'd attempted to burn the house down before.
Shirley said they'd agreed upon a plan in October 2012 to light a fire by blocking the chimney of the home and altering the thermostat. Shirley and Leonard made plans to be out of the house that night, and found accommodations for her daughter and cat – but the plan failed.
The next weekend, Shirley said, they tried again. Shirley and Leonard went to a casino. Brook and the cat stayed elsewhere. And, again, the plan failed.
It was on Nov. 4, 2012, according to Shirley, that the Leonard brothers hatched the plan to fill her home with gas and light that on fire.
On Nov. 10, 2012, Shirley and Leonard again went to a casino. Brook stayed at an alleged accomplice's house. The cat, Snowball, was boarded. And shortly after 11 p.m., investigators say a timer on the microwave reached zero – causing a metal cylinder inside to explode and starting a chain reaction that would damage more than 100 homes and claim two lives.
From accomplice to key witness
For more than two years, Shirley maintained her innocence.
In January 2013, Shirley agreed to give up her nursing license during the investigation. One day later, the Indiana State Board of Nursing voted unanimously to suspend it.
PREVIOUS | Indiana State Board of Nursing suspends Monserrate Shirley's license amid deadly explosion charges
In August of that year, her attorneys filed a motion for a separate trial from Leonard, saying Shirley had been abused and was powerless to stop the blast.
PREVIOUS | Monserrate Shirley claims abuse, wants separate trial
Shirley's attorneys said Leonard was the "sole creator" of the scheme, and pointed to a history of insurance fraud charges against him as evidence.
Then, in January 2015, facing more than 50 felony counts and a potential sentence of life in prison without possibility of parole, Shirley agreed to a plea deal with prosecutors.
PREVIOUS | Richmond Hill explosion suspect reaches deal with prosecutors | Richmond Hill neighbors react to plea deal talk
Shirley admitted to the conspiracy, and agreed to testify at the trials of Mark and Bob Leonard, as well as other, then-unnamed defendants, in exchange for the State dropping its pursuit of the life without parole sentence.
Information apparently provided as part of the agreement also led to the arrest of the fourth and fifth suspects in the case: Gary Thompson and Glen Hultz.
PREVIOUS | Plea deal leads to 4th suspect in Richmond Hill explosion | Plea deal leads to 5th suspect in Richmond Hill explosion
Shirley's ultimate sentence has not yet been decided.
The ghost in the courtroom
Mark Ray Leonard's murder trial began June 8 in St. Joseph County.
From the defense's opening statements, it was clear attacking Shirley's credibility was priority one.
PREVIOUS | Defense opening statements | Prosecution opening statements
Their efforts were stymied, however, by decisions made by Judge John Marnocha to prevent cross-examination of witnesses about Shirley's demeanor on the night of the explosion, as well as neighbors' opinions of her plea agreement.
PREVIOUS | Richmond Hill Trial: Judge shuts down efforts by defense to raise doubts about Monserrate Shirley
Jurors did hear from Shirley's ex-husband, John Shirley, about their divorce and her subsequent changes after meeting Mark Leonard – but they did not get to hear about an alleged affair in which she blackmailed a doctor for "hush money."
PREVIOUS | Richmond Hill: Jurors hear from ex-husband of Monserrate Shirley
Leonard's defense attorneys argued unsuccessfully that testimony about the affair was necessary for them to properly counter the State's case against their client.
"Part of the state's presentation of this case is that she has no will of her own, can't manipulate a situation, and it clearly shows that she can manipulate a situation for financial gain," lead defense attorney Diane Black argued.
Marnocha was unswayed, however, saying it didn't matter "whether she's had one affair or 10 affairs or 100 affairs."
MORE | Defense argues for inclusion of Shirley affair information in trial
Prosecutors have downplayed the importance of Shirley's testimony to their case against Leonard, but acknowledge her testimony will do what no one else's can: place Mark Leonard's hands on the crime.
Barring schedule changes, Shirley was expected to testify on Tuesday or Wednesday. Her daughter Brook is also expected to take the stand this week.
RTV6 will be in the courtroom throughout the trial. Court rules do not allow live coverage of the proceedings, but we will post a daily blog wrap up when breaks are allowed from proceedings.
MORE | Monseratte Shirley's ex-husband thought boarding of cat was 'odd' | Excess gas inside home was equivalent to 3 tons of TNT | Firefighter likens blast to 9/11, questioned about bias | 'I had my hand on him' | Victims' moms testify | 'Once the floor caved in, I knew that was it' | Despite error in ATF report, no postponement for Mark Leonard trial | Trapped inside their homes | Witnesses relive the blast | Soldier: Richmond Hill like IED explosion in Afghanistan | 'If I had known, I would have risked everything' | Monserrate Shirley 'lied to us' | Richmond Hill 'only meant to be a small fire'
Download the RTV6 app to receive alerts and follow the latest from the trial every day
Sign up to receive the latest Richmond Hill trial news straight to your email
SPECIAL SECTION: Click here for all of our coverage of the Richmond Hill explosion

View Explosion Damaged Homes in a larger map