13 people arrested in undercover massage parlor prostitution sting
Indy, Shelbyville, Greensburg, Plainfield involved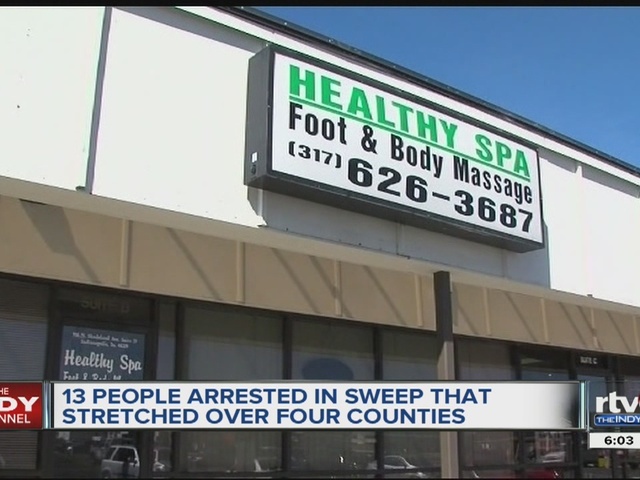 INDIANAPOLIS - An undercover prostitution sting targeting massage parlors netted 13 arrests across central Indiana, police said.
Detectives in Indianapolis, Shelbyville, Greensburg and Plainfield took part in the investigation, which began this summer in Shelbyville after someone reported the mistreatment of an employee at a massage parlor.
"We've had several (illegal) massage parlors in Indianapolis and we've shut them down, so they have moved to the outlying counties because there's been too much police activity here and they felt they were safe to move to the outlying areas," said Lt. Richard Kivett, a vice detective with Metro police.
Slideshow: Mug shots
"We've been hitting these Asian massage parlors for about the past two years," Kivett said. "The reason we're doing these is to cut down on human trafficking, because these women are brought into the United States for one reason."
Last week, Shelbyville police raided First Class Asian Massage at 2509 E. State Road 44 and arrested the owner and two other women.
Jun Fang Li, the owner, who also goes by the name Grace, was arrested on preliminary charges of corrupt business influence, promoting prostitution and three counts of prostitution.
Fei He, who also goes by the name LuLu, was arrested on five preliminary counts of prostitution and Aihua Liang, who also goes by the name Angela, was arrested on one count of prostitution.
As part of the same investigation, police in Greensburg raided Right Touch Massage Therapy at 1030 N. Lincoln St. last week.
Hui Y. Xie, 57, also known as Jenny McMurry, was arrested on three counts of promoting prostitution, four counts of prostitution and one count of corrupt business influence.
Four men were arrested on one count each of patronizing a prostitute -- Robert A. Uptmor, 59, of Centerville, Ohio; Rick S. Adams, 54, of Greensburg; Jerrold S. Grose, 56, from Cincinnati; and Ryan S. Powers, 34, from Greensburg.
In Indianapolis, police raided a massage parlor called Healthy Spa at 916 N. Shadeland Ave. and arrested Xiao Ping Marino, 52, of Indianapolis, on a preliminary charge of prostitution.
As part of an undercover sting at the business, police arrested Stanley Hoskins, 61, of Trafalgar, on a preliminary charge of patronizing a prostitute after he asked an officer posing as an employee for a massage and a sexual act, police said.
Carol Logsdon works right next door to Healthy Spa. She was there when Marino was brought out in handcuffs.
"We only ever saw men here getting massages, but she was always really nice and cordial to us," Logsdon said. "So, yeah, we were a little shocked when it happened. Usually places like that don't last. They usually get busted within six months to a year is what I've been told. After almost three years, it was quite the shock."
Logsdon -- and other nearby employees who didn't want to be identified -- said they're glad to see the crackdown.
"Sometimes those kind of people don't bring the best people around," Logsdon said. "There were some shady-looking characters, and she was always open late."
Plainfield police also arrested three people as part of the same investigation -- Xirong Chen, 45, and Lirong Wang, 44, on preliminary charges of prostitution and Lu Tonghui, 46, on preliminary charges of prostitution and promoting prostitution.
Detectives have confiscated $110,000 in cash and two automobiles from the businesses, and they still have another safe-deposit box to check.
"There's surveillance that needs to be done and we need to check bank records to see where the money is going, because these are all illegal operations," Kivett said. "None of them is paying taxes or anything like that. We don't go in and just arrest those people for prostitution; we go in and actually forfeit all the assets that they've gained from this illegal enterprise."