Couple featured on GMA wedding still spreading inspirational message for firefighters
1st 'GMA bride' trades gown for fire gear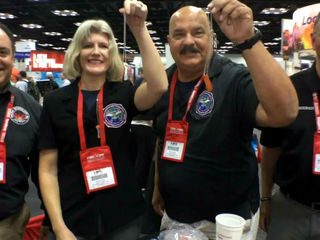 INDIANAPOLIS - You may remember her from "Good Morning America" when she saved the life of a dying firefighter and then married him in the middle of Times Square. Now, she's doing good in other ways.
The Now Indy's Lauren Casey headed to the Fire Department Instructors Conference (FDIC) downtown to meet the very special woman, who you may remember if you're a longtime fan of "Good Morning America."
She had her wedding on Times Square – a magical wedding. But now she's trading in that famous wedding dress for a completely different outfit, and it's all for a good cause.
Back in 2001, viewers voted for the story of Peggy Abundiz and her firefighter love, Lorenzo.
"Lara Spencer knocked on our door," Peggy recounted.
But their story wasn't always a fairytale.
As a decorated firefighter, Lorenzo was used to fighting battles. But just 6 weeks after meeting Peggy, he was diagnosed with a different kind of battle.
"I had less than (a) 4-percent chance of survival. Peggy came through. Her smile got me through the most difficult times of my life," Lorenzo said.
It's a battle the couple has been fighting together all these years, and it's a battle they are fighting for firefighters all across the nation.
"Mostly their cancer is caused by their jobs," Lorenzo said. "You would think that they would get all of the support in the world. But they don't. It's sad."
Together, Peggy and Lorenzo founded Code 3 For A Cure.
MORE: Learn about Code 3 For A Cure
"'Code 3' means lights and sirens at the highest level of response," Peggy explained. "Code 3 or the cure means we are going to the highest level of response."
And that's why Peggy – once a GMA bride – straps on the heavy gear and runs in competitions for firefighters.
"So, one day I come in and say, 'I wish I could get back out there and compete,'" Lorenzo said. "Peggy said, 'Well, I'll do it for you.'"
Peggy is humble about competing.
"Well – I haven't gotten to the marathon level yet," Peggy admitted.
She competes in the firefighter challenges for her husband and for firefighters like him across the country, to raise money and awareness.
Peggy told RTV6 it's a big boot to fill. But she is up for the challenge. And Lorenzo says he never takes her for granted.
"I'm just grateful Peggy is in my life," he said. "She keeps me going."
-----
Follow Lauren Casey on Twitter @Lauren_Casey | Email