2 kayakers rescued from White River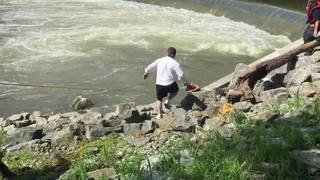 INDIANAPOLIS -- For the second time in six days, Indianapolis firefighters pulled a kayaker from the low head dam on the White River.
Dispatchers received a call about two kayakers in distress on the White River around 4 p.m. Saturday.
Rescue crews from the Indianapolis Fire Department located the man and the woman about 30 feet from the south shore. Both were wearing life vests.
The 24-year-old man was able to get out of the water on his own.
A rope bag was used to help pull the 23-year-old woman out of the water.
Both were taken to St. Vincent. She is listed in serious condition and he is in fair condition, according to IFD.
WATCH RAW VIDEO OF THE RESCUE BELOW:
Even though the water was less turbulent than it has been in the last month, IFD and the Department of Natural Resources are still telling kayakers to stay out until levels subside.
They don't let yourself be fooled - it's not what you can see but what you can't when it comes to the river.
Low head dams are referred to as "drowning machines." Know how to identify one and what to do to avoid it. #DamDangerous pic.twitter.com/uhwJLIprO7

— IN Homeland Security (@IDHS) July 14, 2017
To learn more about low head dam safety, click here.
RELATED | One of two kayakers rescued from White River on Sunday has died | Five women rescued after kayaks overturn during birthday trip on White River | Four people involved in water rescue after canoe overturns in White River