Combine crash kills parents, daughter; 3 others seriously injured
Investigation ongoing, police say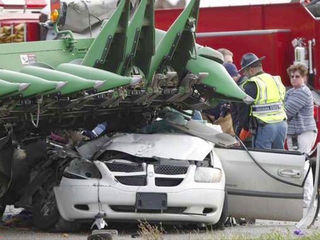 TIPPECANOE COUNTY, Ind. - A collision between a combine and a passenger van has left three people dead and three seriously injured, police said.
The crash happened Wednesday evening near the intersection of Indiana 25 South and County Road 800 South, about 15 miles southwest of Lafayette.
Daniel Fox Sr., his wife Stacey Fox and their 16-year-old daughter Damara Fox were killed in the crash.
Dakota Fox, 13, and Demetria Fox, 17, were taken to Riley Hospital for Children in Indianapolis with serious injuries.
Dakota and Demetria are both students of Attica Junior-Senior High School.
The third injured passenger, 18-year-old Maggie Carpenter, was taken to IU Health Arnett Hospital in Lafayette.
Community members are trying to organize a benefit for the survivors.
Investigators said it appears the combine, driven by Carl McFarland, 36, drove into the path of the van.
The investigation is ongoing.
Watch RTV6 and refresh this page for updates.