40 firefighters battle stubborn house fire in Wayne Township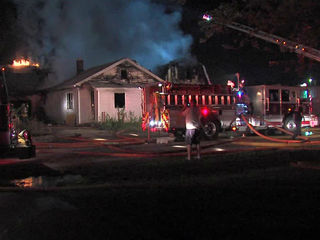 INDIANAPOLIS - A crew of 40 firefighters battled a stubborn house fire in Wayne Township early Saturday.
Capt. Mike Pruitt with the Wayne Township Fire Department said the blaze sparked about 2:30 a.m. at a large home in the 600 block of South Fleming Street.
The fire was so large, it took crews from Wayne Township, Speedway, Decatur and Indianapolis fire departments about an hour to gain control of the flames that engulfed the 4000 sq. ft. home. No injuries were reported and the home had been vacant for quite some time, investigators said.
The cause of the fire remained under investigation, but Pruitt called the nature of the fire "suspicious" after a similar fire sparked about two blocks away on Roena Street just one day earlier.
Anyone with any information is encouraged to call the Indiana Arson Hotline at 800-382-4628.
Watch RTV6 and refresh this page for updates.