Search continues for Indianapolis baby reported abducted Wednesday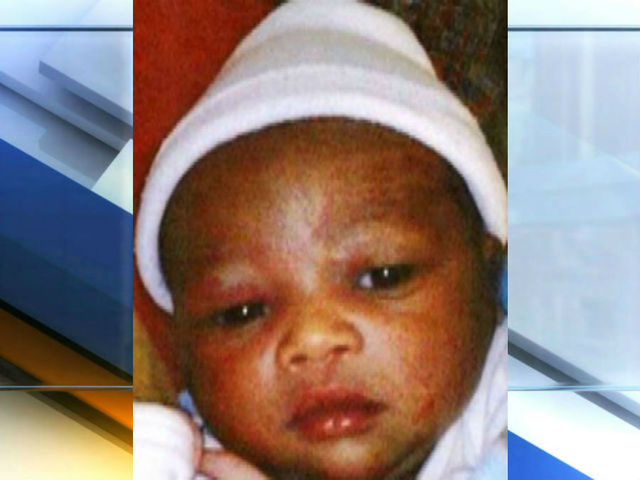 INDIANAPOLIS - Police said a baby boy was in extreme danger in a statewide Amber Alert case that began Wednesday.
Delano Wilson was abducted from an alley in the 1400 block of Henry Street (see map below) around noon Wednesday, officials with the Indianapolis Metropolitan Police Department said.
Indiana State police canceled the Amber Alert at the request of IMPD just before 7 p.m. Friday, but authorities continued their search for Wilson.
Wilson is about 1 month old, 16 inches long and weighs 12 pounds with black hair and brown eyes. He was last seen wearing a dark-blue onesie.
Police believe he was abducted by an unknown white male who was accompanied by a Latina female.
RELATED: Police have issued 122 Amber Alerts since 2003
The male was described as 25-30 years old, 5 feet 6 inches to 5 feet 9 inches and tall with a medium build. He has short brown hair and was wearing a black do-rag, a red T-shirt, jean shorts and red, black and blue sneakers.
The female was described as 25-30 years old with a thin build and long brown hair. She was last seen wearing a green shirt and matching green hoop earrings.
They were last seen driving an older model (2000 to 2003) blue four-door Ford Taurus.
On Friday, the family announced a $10,000 reward for the baby's safe return.
Wilson's mother, Taniasha Perkins, made a tearful plea Thursday for the return of her child.
Watch the uncut interview with Perkins in the video player above.
"It's putting a big hole in my family," Perkins said. "We are devastated right now. He's my first born. My first child. The first grandchild and great-grandchild. I just want my baby. I haven't seen him in two days and it breaks my heart I haven't touched him."
Wilson's family said the baby's father was walking with the child when he was approached by the male and struck with a gun. The father, Willie Wilson, 23, said when he regained consciousness, he saw his 6-week-old baby being taken away.
"It's been truly emotional time since we got the phone call. We love the baby so much, just give the baby time to bond with his mom and dad because he's just a baby," the child's aunt Lou Johnson said.
LISTEN: 911 call reporting abduction (in video player above)
Authorities focused their search near the scene of the reported abduction Thursday afternoon. Police used bloodhounds to search a nearby wooded area and boats and underwater cameras to search the White River.
On Friday, the second full day of searching, the search settled in a wooded, industrial area near Oliver and Harding streets, about two blocks west of the alley where the baby was reportedly taken.
IMPD recruits joined the search effort, with about 50 of them combing the woods Friday.
"Right now, you know, we are laser-focused on finding this baby. All of these other issues will work themselves out as the investigation plays out, but our primary concern is the baby," IMPD spokesman Kendale Adams said.
Call police with any information at 1-888-58AMBER or 911. You can also always report information anonymously via Crime Stoppers at 317-262-8477 (TIPS) or online at crimetips.org. Tips can also be texted with "INDYCS" to 274637. You can also check out the Crime Stoppers app, TipSubmit.
Willie Wilson was questioned in 2012 during an investigation into apparent abuse of his then-4-month-old daughter, Call 6 Investigator Kara Kenney learned. The girl's mother, Daphne Waters, is currently serving six years in prison in connection with that abuse.
IMPD said Willie Wilson was arrested for an unrelated narcotics charge overnight. RTV6 learned through the Marion County Jail's website that he was arrested on charges of possession of marijuana or hash.
Can't see our map? Tap or click here.