Husband, wife arrested after large steroid bust in Rushville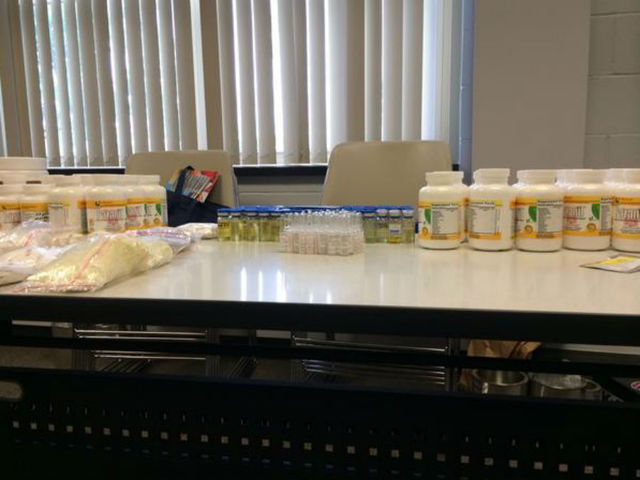 RUSHVILLE, Ind. - A husband and wife were arrested Tuesday in connection to what investigators called the largest steroid bust ever in the State of Indiana.
The pair was arrested at a home outside Rushville in the 1200 block of East State Road 44 around 1:30 p.m., officials with the Rushville Police Department said.
David Starkey, 39, and his wife Holly Starkey, 34, were taken into custody and both face felony charges of dealing a controlled substance.
Officials said the pair has been producing body-building and anabolic steroids in their home. Police said hundreds of pieces of evidence were seized during the raid, including vials, raw materials and equipment.
Neighbor Beverly Buehler was in shock to hear what has allegedly been going on next door. She said the couple has lived there for 10 years.
"It's unbelievable, because they are such a sweet couple. They never bothered anyone. It was just Holly and Dave," Buehler said.
Police did not confirm how long the pair had been producing the drugs or who they had been selling them to.
"At this time we're not entirely sure how the whole operation worked, but it would be safe to say at this point, our understanding is part of the distribution at least was being used through the U.S. Postal Service," Rushville Police Chief Craig Tucker said.
Officers weren't able to quantify how much of the drug they seized, but they said each vial was worth about $120 on the street.
Area police and sheriff's deputies worked with the Drug Enforcement Administration and the U.S. Postal Inspection Service to bust the operation.
"Without the corroboration and the sharing of information, we wouldn't be in the position we're in today, able to take a dangerous substance off the street so it doesn't hurt any more families in our community," Tucker said.
Police said it was likely that more charges will be filed and more people could be arrested as the investigation continues.
Watch RTV6 and refresh this page for updates.