Auto body shop owner remains in critical condition
Graham injured in fire Tuesday evening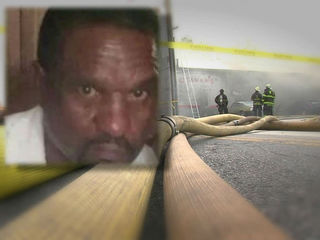 INDIANAPOLIS - The owner of an east-side auto repair shop severely damaged by fire remained in critical condition Wednesday.
Officials said 59-year-old Daniel Graham was using a torch inside Graham's Auto and Body Shop when his clothes caught fire Tuesday evening.
The fire caused half a million dollars in damage to the business. Although it's a total loss, the business was still standing and so was the faith of a tight-knit family.
Twenty-four hours after the fire devastated his auto shop, half a dozen of Graham's family members and friends remained hopeful. Dollar by dollar they were collecting donations in an effort to help a man who has always helped others.
"Mr Graham had done a lot of help for the community. People might have needed their car fixed, might be in a financial situation, but Mr. Graham would fix their car for free at times," Rev. Gerald Hatcher with Fellowship Missionary Baptist Church said.

Hatcher said his friend would come to work on a day off if somebody needed his help. He was following in the footsteps of his father who started the business near 21st Street and Sherman Drive decades ago.
"It was just something he instilled into his kids, and left that legacy behind. So Danny and my other brothers just did what my father had started," Graham's sister Kim Dunn said.
Graham remains in critical condition with second-degree burns from the neck down.
Firefighters with the Indianapolis Fire Department said he was working on a fuel tank of a vehicle suspended from a lift inside the shop. The vapors ignited, either from a torch or a broken overhead lamp, and caught Graham's clothes on fire.
He started running out of the building when one of his employees, Anthony Beverly, ripped off his burning shirt.
Beverly suffered minor injuries in the fire. He has since been treated and released from the hospital.
Friends and family will be collecting donations for the hospital bills outside the shop Thursday between 10 a.m. and 9 p.m.