Baby delivered on 465 reunites with emergency crew that brought her into world
Parents left home early, still didn't make it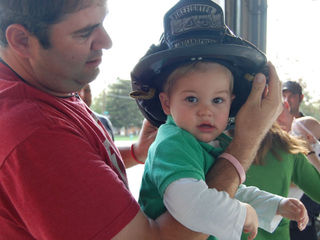 INDIANAPOLIS - Emergency crews were reunited Wednesday with a baby they helped deliver on the side of Interstate 465 in May.
Four-month-old Camille Garrett came into the world on the east side of 465 on May 31, while the Garretts were on their way to St. Vincent Hospital in Carmel.
Brianna Garrett, who was 41 weeks pregnant, was having contractions at the Garretts' southwest-side home, so the family decided to head north to allow plenty of time to reach the hospital.
Brian Garrett called 911 from the car when it became clear that they would not make it to the hospital in time. Dispatcher Will Gonzalez took the call and sent crews to the scene.
Lt. Sean Ferbrache, Engineer Rick Fausett, Private Chris Dufour and Private Carlos Wood responded in Engine 43, accompanied by EMT David Owens Jr. and Paramedic John McMillan.
The crew was helping Brianna out of the family's vehicle and onto a cot when Camille decided to join them.
Camille Garrett, along with her parents Brian and Brianna Garrett and her big brother Lane, visited the fire station to say thanks and drop off some muffins.