Baseball stadium to address flooding concerns in $11.5 million project
City: Stadium need also addresses flood problem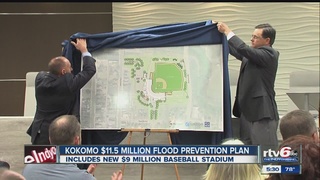 KOKOMO, Ind. - A baseball stadium planned for construction in Kokomo is expected to keep a large part of Kokomo from repeatedly flooding.
A committee on Monday unanimously recommended the stadium be built in an $11.5 million project that will be split out by $9 million in stadium construction funding and $2.5 million for flood mitigation.
"Little did we know that these two needs, the need for comprehensive flood mitigation and the need to reestablish a first-class baseball facility, would eventually merge into one of the largest new developments in downtown's history," Kokomo Mayor Greg Goodnight said. "The goal has been to end the cycle of personal loss on the scale witnessed last year and to re-purpose the land for a productive, safe use."
The stadium is expected to seat more than 4,000 people for baseball and other sporting events. Expanded seating could be brought in for concerts and other special events.
Many hope the state-of-the-art stadium will bring excitement and life back to an area that's seen so much suffering.
"It became evident to me early on that this project was a piece of the puzzle of our community becoming more than it is. This is much more than a new baseball stadium," said Rex Gingerich, co-chair of the Baseball Stadium Committee.
Kokomo plans to pay off a $6 million parking garage debt five years early to bring together funding for the stadium project.
Highland Park Stadium was built in 1955 and once was the home field for the Kokomo Dodgers, a minor league affiliate of the Brooklyn Dodgers.
Construction is expected to begin on the new stadium soon, with a completion date set for April 2015.
Four high schools in Howard County are expected to play at the new stadium.
Follow Tanya Spencer on Twitter: @tanyaspencer6 | Facebook: Tanya Spencer