Deputy Jacob Pickett honored at his visitation with a flag ceremony and presentation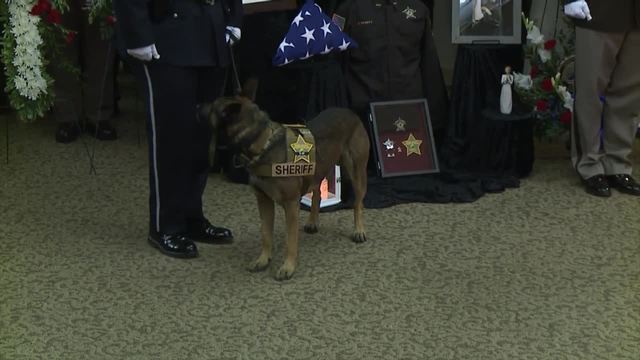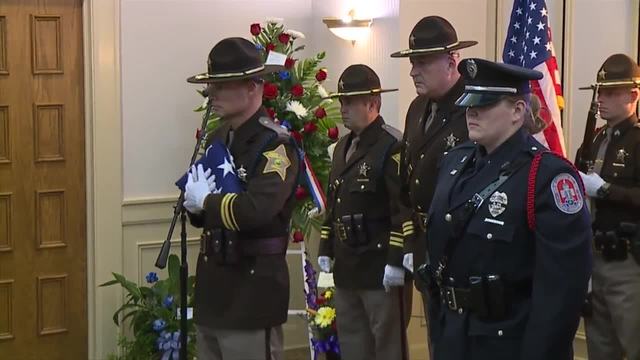 INDIANAPOLIS -- Fallen Boone County Sheriff's Deputy Jacob Pickett was honored with a flag presentation ceremony at his visitation Thursday.
Dozens of family and friends showed up to pay their respects to Deputy Pickett, who was shot and killed in a foot pursuit in Lebanon last week.
Boone County Sheriff Mike Nielsen gave the presentation remarks and offered the flag to Deputy Pickett.
Deputy Pickett's K-9 partner, Brik, was also in attendance.
"Deputy Jacob Pickett courageously stood his post, representing what was the best in society," Sheriff Nielsen read during the ceremony.
Full text from reading:
In a nation of laws, patriotism knows no greater champion than that which is found in a police officer.

Boldly standing on the thin blue line, separating peace from anarchy. The police officer knows that the war will never end.

The police officer stands there anyway, a vigilant sentry, fighting the continuing war one battle at a time.

Deputy Jacob Pickett courageously stood his post, representing what is the best in society. Going into places that the average person fears to tread – seeing things no one wants to see.

By simply putting on his uniform and going to work every day, Jake made this country a better place to live.

Therefore, we present Jake a flag of the United States of America – a symbol of hope – with a prayer that it will offer him the comfort of a grateful nation.
You can watch the full ceremony in the video player above.
PHOTOS | Deputy Pickett honored with flag ceremony & presentation