Boy, 8, presents special plates to IMPD officers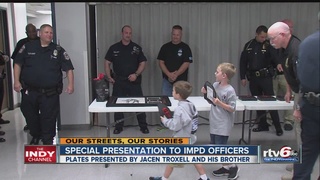 INDIANAPOLIS - A young boy who made it his mission to better protect Indianapolis police presented officers with protective plates Wednesday night.
When Officer Perry Renn was shot and killed in the line of duty, the Indianapolis community mourned his passing, but one 8-year-old boy decided to go to work.
Jacen Troxell's dad is a detective with the Indianapolis Metropolitan Police Department and Officer Renn was his close friend.
After Renn was killed, Jacen raised more than $15,000 to buy special plates for the officers' vests that provide extra protection and can stop higher caliber rounds.
"Who can imagine an 8-year-old coming up with this idea, you know, this grandiose scheme that actually exceeds the expectations," Fraternal Order of Police Lodge 86 President William Owensby said.
Jacen and his younger brother presented the officers with the new plates Wednesday night at IMPD's North District headquarters. The cops of the northwest district were touched by Jacen's act of kindness.
"We all have families. It doesn't matter what people think of police officers. We are dads, we are sons, we are moms, we are daughters. We have families out there and you could see it when they were getting the plates from Jacen and Ben, you know they care. They cared that this was coming from an 8-year-old and a 5-year-old," Jacen's dad Andy Troxell said.
The presentation had special meaning for Officer Greg Milburn, a veteran of the force who was shot in the line of duty May 30. His vest saved his life.
"It's unlike anything I've ever heard of. And it's amazing for someone that young to have the mindset to go out and support a police department, because that's really what we're asking for as officers -- the community support," Milburn said.
The plates cost $10,000 and the rest of the money Jacen raised will go to the Fraternal Order of Police to buy more plates for other officers.
In a show of appreciation for community support, the Marion County Sheriff's Office donated 20 bulletproof vests to members of the Indianapolis Ten Point Coalition on Wednesday.
Follow Drew Smith on Twitter: @drewsmith1