Delphi, Indiana: Grandfather of Liberty German expected to speak publicly on Thursday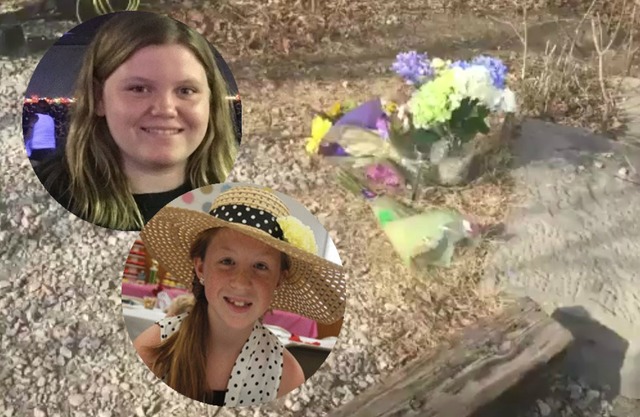 DELPHI, Ind. -- Liberty German's grandfather is expected to make a public statement about her death for the first time on Thursday.
Neither the Germans nor the family of Abigail Williams have spoken publicly since the girls went missing on February 13 and were ultimately found dead the next day.
German's grandfather is expected to speak Thursday at 10 a.m. at the Carroll County Courthouse. RTV6 will carry the speech live on the RTV6 app, theindychannel.com/live and on the RTV6 Facebook page.
The families of both girls toured the Delphi investigation headquarters last week.
While there, Abigail's grandparents made a stop at a board where the community can leave messages for investigators. Their message to police offered prayers and thanks:
Libby, 14, and Abby, 13, went missing while hiking near the Monon High Bridge. Their bodies were found less than a mile from where they were last seen alive.
RELATED | State Police: 'Please don't spread rumors' in Delphi investigation
The reward for information leading to an arrest in the girls' murder hit $219,000 on Monday after significant donations over the past week from local businesses, families, Pat McAfee and Colts' owner Jim Irsay.
If you would like to donate to the reward fund, you can mail a check to the Indiana State Police Alliance, 1415 Shelby Street, Indianapolis, IN, 46203. Put "Delphi Reward" on the memo line of your check
Indiana State Police have released a picture of a suspect, which was taken by Liberty on her cell phone. She also captured a man's voice saying "down the hill." You can listen to that recording below.
Indiana State Police are still encouraging anyone with information on the case, no matter how insignificant, to call the Delphi Homicide Investigation Tip Line at (844) 459-5786 or 1-800-225-5324 (800-Call FBI). Tips can also be emailed to Abbyandlibbytip@cacoshrf.com. Information can be reported anonymously.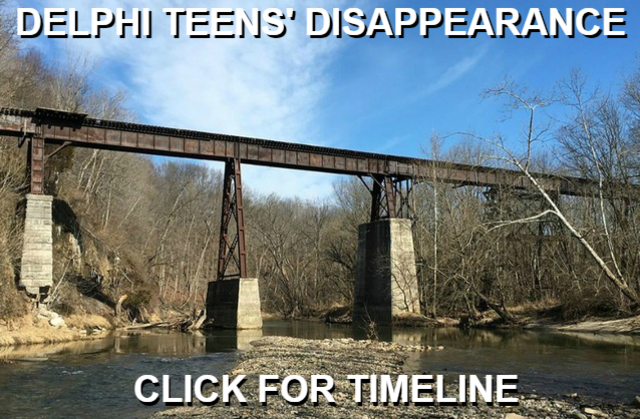 FULL DELPHI COVERAGE | Indiana's 'Singing Contractors' record emotional tribute to Delphi murder victims | ISP: Do not use social media to report tips on murders of Delphi teens | Don't share the Delphi suspect 'sketches' | FBI moves to larger space for Delphi case | Delphi girls murdered: What is the evidence? | New audio could help solve Delphi killings | Delphi murders have parents watching kids closer | Report Delphi tips to police, not social media | Security concerns on Delphi trails after murders | Don't share the Delphi suspect 'sketches' | German family friend: 'She was a good kid' | See somebody walking near Delphi? Call police | Prosecutor: Don't harass people about Delphi | ISP on Delphi murders: "Everyone is a suspect" | PHOTOS: Motorcycle fundraiser for families of Delphi murder victims | Search warrant served at Delphi home in connection to teen murders, no arrests made | Friend of killed Delphi girl: 'I question everything' | State Police say an Amber Alert would not have done 'any good' | A look at the property where the bodies of two missing teen girls were found | ISP wants to speak to this man and anyone who was near Delphi trail when two teens went missing | Community in shock after bodies of two missing teens found | Community concerned about safety as police search for suspect in death of teens | MAP: Where the two bodies of the teen girls were found near Delphi, Indiana | Why wasn't an Amber Alert issued when girls were reported missing in Carroll County? | Delphi Timeline: Teen girls found dead after disappearing while hiking |Two bodies found during search for Carroll County teens | MISSING: Two 13-year-old girls dropped off to go hiking near Carroll County trail