Christian Kappes' family eager for Indiana priest's return
Christiaan Kappes on flight back to Indianapolis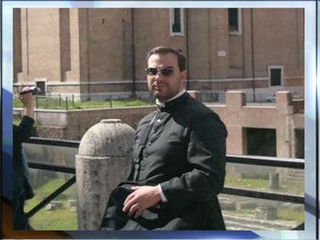 INDIANAPOLIS -
The family of a priest from Beech Grove is eagerly awaiting his arrival back home from Greece.
The Rev. Christiaan Kappes, 36, and his interpreter were reported missing in Athens more than a week ago after he told others that he feared for his life.
Kappes' family feared the worst until he called Monday to tell them he was safe in another country. Kappes' father, Virgil Kappes, told RTV6 Wednesday that his son was on a 17-hour flight from Germany.
"When we started this, I said I wanted my son, his body, or closure," Virgil Kappes said. "Well, I've got a live body. My son is coming home, and I have closure."
The stress of the nerve-wracking saga has taken a toll on the priest's father, who is diabetic.
"I went to my compression therapy just trying to get the fluid out of my body. I've been in all kinds of pain the last couple nights," Kappes said.
Father William Williams, who is pastor at the church where Kappes grew up and is a family friend, said the entire ordeal has been hard on the family, particularly the priest's father.
"As any good father would do, any good parent, he neglected himself probably a little bit," Williams said. "I'm not sure how much sleep the poor man has gotten either, but I know he is elated today."
"I slept six hours straight. What more can I say? My son's coming home," Kappes said.