City-County Council committee tables Homestead Tax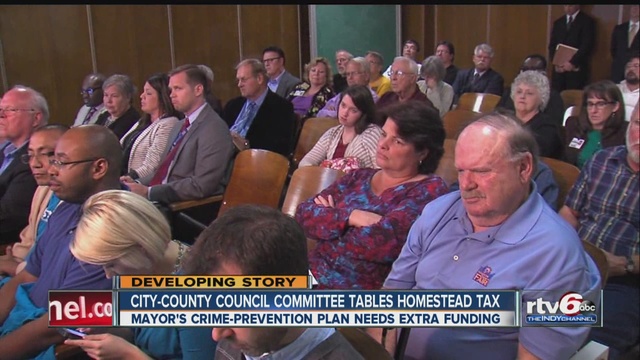 INDIANAPOLIS - The Indianapolis City-County Council Administration and Finance Committee tabled the issue of the Local Homestead Tax Credit at Tuesday night's meeting.
Indianapolis Mayor Greg Ballard proposed eliminating the Local Homestead Tax Credit as part of his anti-crime plan to fund pre-K programs.
Ballard said he wants to start children off on the right path early, but he will need more money to do so.
While some support the plan, others don't want to lose their tax credit.
Many people who showed up to the meeting left upset when they waited for more than three hours just to see the issue put off to another day.
"Earlier this evening, dozens of citizens, including many children, attended a three hour meeting of the City-County Council Administration and Finance Committee to voice their opinion on the proposed resolution to support Pre-K funding. Committee Chair Angela Mansfield deliberately pushed discussion of the topic to the end of the agenda, only to quickly table it without taking public comment. The public should always have a voice in the process of local government, but to deny them the right to speak after waiting through a three hour committee meeting is beyond disrespectful. Unfortunately, this is just the latest example of the political games being played by Council Democrats," Marion County GOP Chairman Kyle Walker said in a statement.
Ballard said he remains optimistic about the support the plan is receiving.
The City-County Council recently approved a tax increase to help hire more police officers by 2018.
Watch RTV6 and refresh this page for updates.