Colts QB Andrew Luck, Riley kids take lap in Indy 500 pace car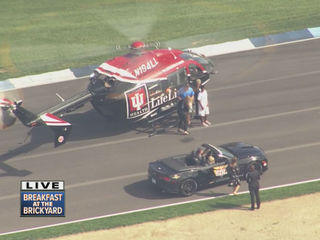 INDIANAPOLIS - Indianapolis Colts quarterback Andrew Luck and two kids from Riley Hospital for Children buckled up Sunday for a ride around the Indianapolis Motor Speedway in an official Indy 500 pace car.
Luck, MaKenzi Rooksberry, and Johliel Austin flew into the track in the IU Health LifeLine helicopter. The trio landed on Turn One at IMS where crowds greeted them with warm smiles and applause.
MaKenzi, 11, of Jasonville, Ind., came to Riley after a sledding accident. Her mom, Toni, said she was excited for her daughter's Indy 500 experience.
"A year ago, we didn't know if she was going to make it," she said.
Austin, 14, of Indianapolis, is part of Change the Play, an eight-week, health, fitness and nutrition program Luck developed at Riley at IU Health that teaches kids how to take charge of their own health.
"I've learned a lot about staying fit and that eating healthy can set you up for a better life," Austin said.
Sunday marked the trio's first time attending the Indy 500.