Couples line up for 2nd day of marriages in Indiana following strikedown of gay marriage ban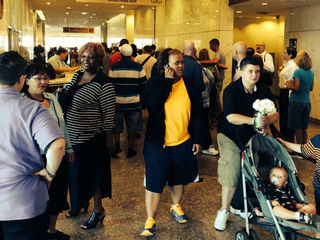 INDIANAPOLIS - Couples began waiting as early as 6:30 a.m. at the City-County building to finally get married.
A half hour before doors opened, more than two dozen people were waiting near the clerk's office for the second day of the struck-down ban on gay marriage in Indiana.
And by midday, more than 150 people were waiting in line.
After a federal judge ruled that the state's ban on same-sex marriage was unconstitutional Wednesday, hundreds of couples flooded county clerk's offices across the state to get married.
By 4 p.m., more than 100 couples were waiting at the Marion County clerk's office alone. Clerk Beth White kept her offices open four hours late Wednesday to accommodate all the gay and lesbian couples that wanted to get married.
The grand total? Roughly 250 marriage licenses were processed Wednesday, and more than 150 weddings were performed at the county clerk's office.
By the end of the day Thursday, 174 additional marriage licenses were issued, bringing the two-day total to 424. Officiants married 139 couples Thursday, bringing the two-day total to 327 weddings.
Marion County, along with many others, began issuing marriage licenses to same-sex couples almost immediately after the federal judge's ruling midday Wednesday.
Other counties were still waiting to make a decision on allowing same-sex couples to wed. Find a list of Indiana counties and their statuses on gay marriage here.
Many made their happiness known about the decision: Social media was flooded with reaction.
Shout out to the state I grew up in - get with the program! #IndianaEquality pic.twitter.com/hTBn6h6clE

— Cori Garrison (@CoriGarrison2) February 2, 2014
Wedding cake for everyone! #IndianaEquality #fb pic.twitter.com/J0mtQDCI4w

— DJ Shiva (@djshiva) June 25, 2014
Today is such a beautiful day in Hoosier history! Indiana has legalized gay marriage! 🌈 #IndianaEquality

— Megan Maudlin (@MeganMaudlin) June 26, 2014
Waking up this morning in a state with marriage equality is amazing. It seriously feels different. #IndianaEquality

— Britannia (@bgilland) June 26, 2014
Local politicians and officials sounded off, as well.
"I hope all Hoosiers can agree that it is time to move on," former Democratic candidate for Indiana governor John Gregg said. "I hope that now we can put our collective energies into improving this economy, strengthening our public education system, investing in needed infrastructure improvements and the litany of other issues that need to be addressed. It's time to move forward together."
Meanwhile, Indiana Attorney General Greg Zoeller had the state file an appeal on the judge's decision.
"Time is of the essence to stop these marriages by staying this Court's conception of marriage," Zoeller said.
Watch RTV6 and check back here for updates on this developing issue.