IMPD finds burned dog, guns & drugs at home linked to shot pit bull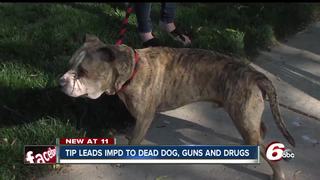 INDIANAPOLIS -- Following a lead on a dog who was shot and left for dead earlier this month, IMPD officers found the burned body of a second dog Tuesday on the near-north side.
IMPD and animal control officers executed a search warrant at 7 p.m. Tuesday at a home in the 600 block of Udell Street, near the intersection of Dr. MLK Jr. and 29th streets.
The warrant was precipitated by a report about suspected dog abuse at the address in connection to the dog, now named "Winks," who was rescued by an IMPD officer's family earlier this month.
READ MORE | IMPD officer rescues dog that was shot & left for dead
Police learned that the actual shooting of Winks may have occurred on the porch of the Udell Street home, and that a second dog may have been burned in the backyard.
Upon arrival, police reported locating the body of a deceased dog which had been doused in gasoline and burned in the home's backyard.
They also located firearms and "a large amount of marijuana" at the home, along with a pit bull puppy, who was removed from the residence by animal control.
IMPD detained three adults at the home, but no arrests were made. The case was referred to narcotics detectives and charges were reportedly pending.
MORE FROM THE CRIME BEAT | Indianapolis sets all-time homicide record for third year in a row | MAP: Indy's most dangerous neighborhoods | The Night the Sky Caught Fire: The Untold Stories of Richmond Hill | Convicted child molester reveals how he selected & groomed his victims | Teens killed man over weed and a pair of Air Jordans, police say | MAP: 2017 Indianapolis homicides