ISP Supt. Carter: Reports of new Delphi information 'simply not accurate'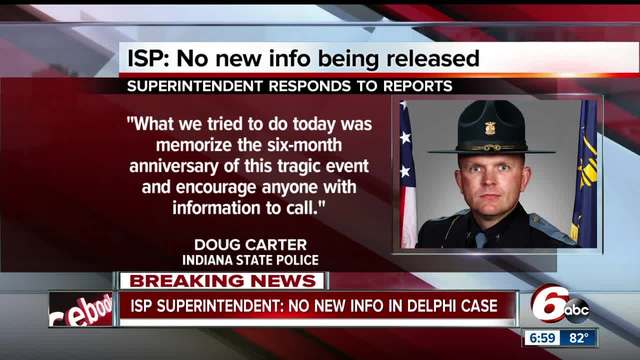 INDIANAPOLIS -- Indiana State Police Superintendent Doug Carter strongly pushed back Monday on reports of new information in the case of two Delphi girls killed
Sunday marked the six-month anniversary of the disappearance of 14-year-old Liberty German and 13-year-old Abigail Williams at the Monon High Bridge in Delphi, Indiana.
To memorialize the day, many news outlets, including RTV6, ran stories about the girls' murders and the status of the investigation.
SPECIAL SECTION | Delphi's Daughters: The Murders of Abby and Libby
Some of those stories, according to Supt. Carter, contained information that was not accurate. Chiefly, that police have recovered new audio in the case. RTV6 did not report that.
"Any notion of the release of information regarding the Delphi murders is simply not accurate," Carter said.
Carter said state police continue to encourage anyone with information in the case to call in with tips. ISP has received thousands upon thousands so far, and continues to work through them.
"The murderer is still out there and someone knows who he is," Carter said. "We want to keep this in the forefront of Delphi, Carroll County, Indiana and all of the Midwest. One day this killer will be brought to justice. He just doesn't know when."
Above: The composite sketch of the suspect in Abby and Libby's murders released by state police. If you recognize this man, you're asked to call 844) 459-5786 or 1-800-225-5324.
Indiana State Police released a picture of a suspect, which was taken by Liberty on her cell phone. She also captured a man's voice saying "down the hill" during what police call "criminal activity." You can listen to that recording and see the photo below.
Indiana State Police ask anyone who recognizes the man or the voice, or who may have any other information, to call the Tip Line at (844) 459-5786 or 1-800-225-5324 (800-Call FBI). Tips can also be emailed to Abbyandlibbytip@cacoshrf.com. Information can be reported anonymously.
Delphi Daughters: The Untold Stories of Who Abby & Libby Were | Delphi investigation: The latest on finding the killer | TIMELINE: The disappearance and murders of Abby & Libby | 360 VIDEO: A tour of the Monon High Bridge Trail | Delphi Daughters: Families tell their story for the first time | Delphi girls murdered: What is the evidence? | Take 1 minute for justice for Abby & Libby