Suspected child predator caught on camera outside Plainfield home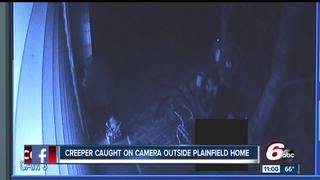 PLAINFIELD, Ind. – Families in Plainfield have begun taking extra security measures after a man was caught on video watching children get dressed Monday.
A home surveillance video caught the man climbing a backyard tree in the Bentwood subdivision and peering through a window. Family members said the man was watching girls as they got dressed for school.
The video also showed the man touching himself in a sexual manner as he looked through the window.
"We have the video, he's on the camera, he's looking at the camera, we have his face. Help us. We need to I.D. this person," said Nydia Botero, the victim's mother. "Probably this is not the first time, probably this is not the first house that he's been doing this to. It's been two nights of just sleeplessness."
Camera footage showed the man glancing at a cellphone multiple times. Parents are worried he may have recorded video.
Another family that lives across the street said a man broke into their home and walked into their daughters' room, but ran away once the girls screamed for help.
"It's challenging, it's scary but we got to defend ourselves somehow," said Naftali Gichaba, father of the girl.
Plainfield police said the investigation is ongoing, but families in the area said they hope someone will see the footage and share information with officers.
According to a police report, the suspect was described as a black man in his 30s.
MORE TOP STORIES | State website offers advice to Hoosiers in event of nuclear attack | Best public high schools in Indiana for 2018 | These are the hate groups operating in Indiana | Over 60 eviction notices posted on doors at apartment complex on Indy's east side | PHOTOS: Inside look at the Mass Ave Coke plant
Those with information should call the Plainfield Police Department at (317) 838-3565.