Critics fight City's deal to offer free trash recycling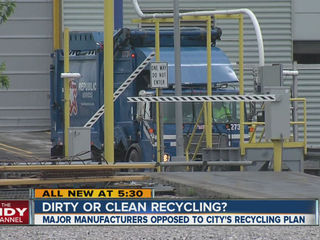 INDIANAPOLIS - Free trash recycling in Indianapolis may seem like a good idea, but surprisingly a group of paper, glass and plastic manufacturers are opposing it.
Mayor Greg Ballard said Covanta, the company that already runs an incinerator on the city's south side, could soon also handle recycling.
The proposed $45 million recycling facility wouldn't require homeowners to sort out paper, glass or plastic from their normal trash.
Scott Holkeboer with Covanta said it could be a convenient, one-can-fits-all approach for citizens.

"The direction, for economic reasons, is going to be one bin for your trash and recycling. One truck, one bin, and one facility to take care of your waste-disposal needs," Holkeboer said.
Fran McPoland with the Paper Recycling Coalition said the one-stop-shop process won't work well.
"We have reviewed the advanced recycling center proposal and given our experience, we know it will not provide the quality materials we need," Mc Poland said.
Opponents of the new recycling facility that will be built adjacent to Covanta's incinerator say they want the city to use available grants and long-term, zero-interest loans to buy recycling carts for every home.
"If we capture all of the material in our waster today, with a good quality recycling program, that generates $15 million a year and that's what pays back the investment in the new system," said Carey Hamilton with Indiana Recycling Coalition.
The Board of Public Works will ultimately decide how Indianapolis homeowners recycle their trash.