Delaware County Jail releases mugshot of corrections officer accused of animal neglect
Laverne Thomas arrested in animal abuse case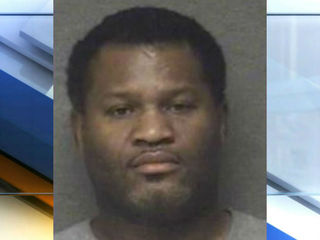 DELAWARE COUNTY, Ind. - The Delaware County Jail has released the mug shot of one of their own, accused of neglecting animals in his care, Call 6 Investigator Kara Kenney reported.
Delaware County Corrections officer Laverne Thomas was arrested for animal neglect last week after several dogs were confiscated from his property, according to Muncie animal control superintendent Phil Peckinpaugh.
Previous story: Delaware Co. Corrections Officer charged in animal abuse case
It's unclear if and when criminal charges will be filed against Thomas.
Delaware County Prosecutor Jeff Arnold was at a conference Tuesday and unavailable for comment.
When Kenney contacted the jail for a mug shot Friday afternoon, a worker said she was unable to email the picture.
Jail commander Lt. Chris Hoose released the mug shot of Thomas Tuesday morning, and said Thomas is still employed at the jail.
According to the case report, officers were dispatched to the home Thursday on a report of animal neglect.
"There was a German Shepard in the yard of the residence that was very skinny and was missing large patches of fur on its rear end," read the report. "There was a smaller white dog on the porch missing an area of fur on its back with a red rash."
When asked about the condition of the dogs, Thomas said "they just scratched a lot."
Animal control took possession of two dogs due to poor health, as well as a third dog without any noticeable problems.
Thomas told police the dogs had food and he did not know why the shepherd was so thin. Taking the dogs to a vet was too expensive, said Thomas, according to the report.
"Thomas started having a panic attack when he was informed that he was going to jail," read the case report. "EMS arrived on scene because Thomas would not calm down."
Peckinpaugh said the dogs are doing much better, and they've had a tremendous outpouring of support from people offering to pay for medical bills and adopt the dogs.
Peckinpaugh said they are waiting to see what the prosecutor does before adopting out the animals.
Thomas could pay an approximately $350 bond in order to keep the dogs at the shelter during the criminal proceedings.
"It's rare someone posts a bond, in fact, I've never seen it done," said Peckinpaugh.
A judge has not yet set a bond for the animals, said Peckinpaugh.
Kenney was unable to reach Thomas for comment Friday.
Follow Kara Kenney on Twitter: @karakenney6 | Facebook: KaraKenneyNews