Boy, 17, missing after swimming mishap near dam
Search resumed Saturday morning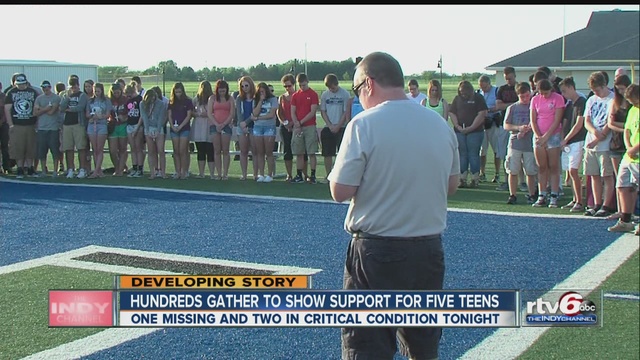 EDINBURGH, Ind. - Crews resumed their search Saturday morning for a missing teen after a swimming outing turned tragic in central Indiana.
Conservation Officer Lt. Bill Browne told The Republic that a teenage girl was swimming with four teenage boys shortly after noon Friday when she was swept over the Edinburgh dam at the Big Blue River and became trapped in an area of roiling water.
The other teens attempted to rescue her but were overcome by the force of the water, which was at flood stage.
Two of the boys made it out of the water on their own. They were identified as 17-year-old Trent Crabb and 18-year-old Mark Nally.
Browne said bystanders found another boy and the girl face-down in the water. They pulled them out and administered CPR until paramedics arrived. They were identified as 16-year-old Sarah May Mclevish and 16-year-old Michael Chadbourne.
A 17-year-old boy, identified as Jason Moran, remained missing in the river about 30 miles south of Indianapolis late Friday afternoon, and searchers had shifted to recovery mode. Conservation Officer Jet Quillen said that boy also got caught in the roiling water.
"We don't know if he's still in there or if he got carried downstream," Quillen said. "We're holding out hope that we'll find him alive, but at this point we're in recovery mode."
Browne said Mclevish and Chadbourne were taken to a hospital in nearby Franklin and later airlifted to an Indianapolis hospital, where they were in critical condition.
Conservation officers said the teenagers were from Franklin and Martinsville.
Most of the five teens involved in the incident were set to begin their senior year at Franklin Community High School in the fall. Hundreds of students, teachers, friends and family members attended a prayer vigil at the school's football field Friday evening.
The principal said school counselors will be in their offices Saturday to provide support for the classmates.
"Hopefully today it shows there is a lot of support. We have guidance counselors here, we have pastors from the community here, the football coach is here, members of the football team are here so there's a lot of support here for the students who are hurting," Principal Doug Harter said.
Friends and family were shaken after the incident.
"We're all a family here at Franklin. We've been together forever and a lot of these guys I played football with almost all my life -- all these guys are on the defense with me and we're all a big family. They will be missed and never forgotten. Hopefully they'll get back on their feet, we're all praying for them," a fellow student said.