Dog rescued from Muncie ditch, found with suspected cigarette burn marks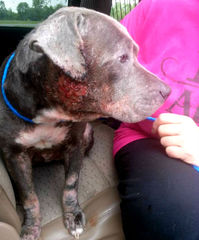 MUNCIE, Ind. - A rescue team saved a pit bull from a ditch this week. They believe the dog was dumped there, possibly by abusive owners.
The Muncie Animal Rescue Fund (ARF) has named the pit bull "Sweet Pea" after she was discovered in the ditch off Memorial Drive in Muncie.
The exact cause of her wounds is unknown, but the non-profit said the dog has what appear to be burn marks from a cigarette and oozing sores all over her head, ears, backs and sides.
"We don't know the extent of the abuse and neglect she likely faced in her past," Muncie ARF posted on its Facebook. "But we do know one thing: Her future is bright and we will make sure she never has to endure pain or suffering at the hands of a human again."
The rescue team stressed they are not sure of exactly what led to Sweet Pea's wounds, or whether she was intentionally abused or neglected.
Sweet Pea is now undergoing care from a veterinarian and is beginning the process of healing.
Muncie ARF posted the following update to their Facebook page Thursday evening, "from" Sweet Pea:
Hello Friends!! After a very unfortunate turn of events in my life as shared with all of you last night, my owner came forward this morning. It is too painful to go into the details of why I am in the pitiful condition I am in or how I ended up being rescued from a ditch. Those actions were very scary and bad but they were the catalyst for what will be my new, healthy, happy life! My former owner cared enough about me to surrender me to ARF today so I can continue to receive the medical care I need. I now want to only look to the good future ahead of me!! I will update all of you on my healing and I thank you all so very much for your concern and love. I am grateful to all who have helped me so far and will continue to get better and better everyday!! Thank you all again for caring! Love, Sweet Pea
According to its website, Muncie ARF's mission is to provide shelter, medical care and love to abused, abandoned, neglected and unwanted animals until permanent homes can be found.